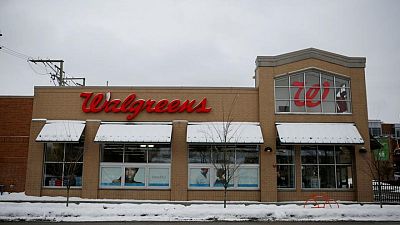 -
-Walgreens Boots Alliance Inc said on Thursday it would make a $5.2 billion investment in primary care provider VillageMD, to open more doctor offices attached to its drugstores across the United States.
The investment increases Walgreens' stake in VillageMD, which plans to go public in 2022, to 63% from 30% it acquired in July last year.
The company expects to open at least 600 physician-led primary care clinics in more than 30 U.S. markets by 2025 and 1,000 by 2027.
Walgreens and VillageMD have 52 primary care practice locations with pharmacy and doctor offices together, and will have more than 80 such locations by the end of this calendar year, the company said.
Walgreens on Thursday also reported fourth-quarter results that beat estimates on higher U.S. and UK pharmacy store sales due to the easing of pandemic-related restrictions and COVID-19 vaccine administrations at its stores.
The company has administered more than 40 million COVID-19 vaccines and over 16 million tests to date, it said.
Same-store sales at its U.S. pharmacies rose 8.8% in the fourth quarter, which included a 485 basis point boost from COVID-19 vaccinations, the company said. Walgreens filled 313 million prescriptions during the quarter.
Excluding items, the company earned $1.17 per share, compared with Refinitiv IBES estimates of $1.02 per share.
Revenue rose to $34.26 billion from $30.37 billion, while analysts on average had estimated $33.30 billion.