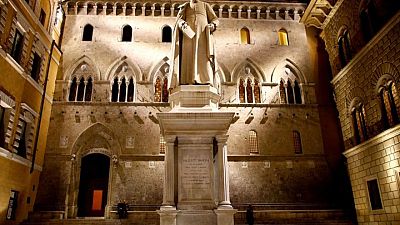 -
By Sara Rossi, Giuseppe Fonte and Valentina Za
MILAN -Junior bonds issued by Monte dei Paschi fell sharply on Monday as slow-moving talks between Italy's Treasury and UniCredit over the sale of the state-owned bank weighed on investor sentiment.
UniCredit in July entered exclusive talks with the Treasury to evaluate buying "selected parts" of Monte dei Paschi (MPS), which is 64% owned by the state following a 2017 bailout.
The exclusivity phase ended earlier this month and the two parties are continuing discussions, but details about issues, including job cuts at MPS the state would need to fund through early retirements, remain sketchy.
Three people close to the talks said any breakthrough was unlikely before a by-election in Siena on Oct. 3-4, when the leader of the Democratic Party, a member of Prime Minister Mario Draghi's coalition, is running for a seat in parliament.
Two of the sources said the two parties were far apart, adding the Treasury may struggle to meet conditions posed by UniCredit.
While the need to explore different solutions for MPS has been floated at the Treasury, no concrete alternative to the deal with UniCredit has emerged, a third person close to the talks said.
All the sources asked not to be named because of the sensitivity of the issue.
Asked about possible alternative solutions for MPS, Industry Minister Giancarlo Giorgetti on Friday said Rome had "many ideas" but the government needed to see which were feasible given tight commitments on the re-privatisation.
Italy must cut its stake in MPS by mid-2022 at the latest based on the terms of the bailout agreed with European Union authorities. To meet that deadline Rome must have an agreement in hand by the end of the year, sources have said previously.
The prospect of the re-privatisation has raised worries among investors over MPS' junior bonds because they have lesser rights to repayment should their issuer face problems.
Under EU rules on state aid to banks, holders of such riskier bonds could be asked to bear losses before the state can disburse any money to ease the UniCredit deal, but sources involved in the negotiations have ruled that out.
On Monday, yields on two MPS' Tier2 bonds maturing in January 2030 and September 2030 rose by as much as 2 percentage points, touching a nine-month high during the session, because of worries over the progress of rescue talks.
UniCredit's demands, outlined in a blueprint the two parties signed when they started talks, include that the acquisition should have no impact on its capital reserves and should boost its earnings per share by at least 10%.
Rome has lined up tax incentives to sweeten the sale of MPS but the bank also needs a fresh cash injection and the Treasury has earmarked 1.5 billion euros ($1.76 billion) for this.
($1 = 0.8525 euros)