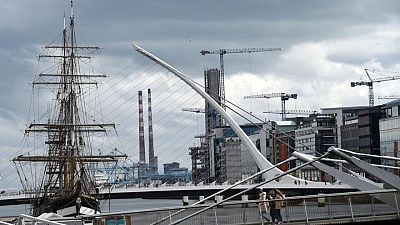 -
By Conor Humphries
DUBLIN -Irish gross domestic product grew 21.6% in the second quarter from a year ago as the country reopened from a deep COVID-19 lockdown, but the government said growth in domestic demand of 15% was a more accurate gauge of the economy.
Ireland's economy went through two strict lockdowns – one in the second quarter of 2020 and another in the first quarter of 2021.
GDP grew 6.3% between the first and second quarters of this year as the country eased restrictions at one of the slowest paces in Europe. The hospitality and travel sectors remained closed for much of the second quarter.
GDP expanded 21.6% between the deep lockdown of the second quarter of 2020 and the gradual easing of the second quarter of 2021.
But Finance Minister Paschal Donohoe said in a statement he placed a greater emphasis Modified Domestic Demand, a measure that strips out some of the ways multinationals can distort Irish GDP, which grew 15% over the same period.
Modified Domestic Demand is now above its pre-pandemic level, Donohoe said, although he added that consumer spending remained below its pre-pandemic peak.
Economic growth in the second quarter was driven by both domestic demand and exports, he said.
He expected an increase in construction activity, curbed for several months by the lockdown, would provide "much needed momentum" into the second half of the year.
Domestic demand is expected to recover in the second half of the year as Ireland expects to be able to drop almost all pandemic restrictions in October.
That growth while likely be at a "somewhat softer pace," Donohoe said.
"Today's positive economic data alongside the robust tax data for August which we are publishing later today, mean that we can approach the forthcoming Budget with a far greater degree of confidence than at any time since the pandemic began," Donohoe said.