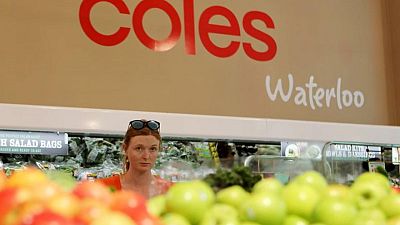 -
– Australia's No. 2 supermarket chain Coles Group on Wednesday reported a near 3% rise in full-year profit, but said conditions early in the first quarter remained volatile amid lockdowns fuelled by COVID-19 Delta variant outbreaks.
In supermarkets, sales growth in the first seven weeks of the quarter was about 1% higher than last year on a headline basis and 12% above fiscal 2019, Coles said.
Supermarkets like Coles and Woolworths benefited during last year's lockdowns as customers went into a buying frenzy. With Australia reinstating restrictions to battle a resurgence in cases, investors are closely watching how the sector will fare this year.
The grocery chain posted profit after tax of A$1.01 billion ($725.60 million), compared with A$978 million a year earlier.
Coles declared a final dividend of 28 Australian cents per share, up from the 27.5 Australian cents a share declared a year earlier.
It expects to report gross operating capital expenditure of up to A$1.4 billion for fiscal year 2022.
The more than 100-year-old firm said sales for the year was A$38.6 billion, up from A$37.41 billion last year and in line with Refinitiv IBES estimates.
($1 = 1.3782 Australian dollars)