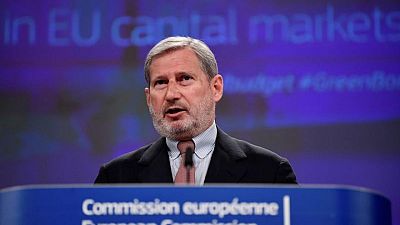 Copyright

Thomson Reuters 2021
-
BRUSSELS – The European Commission proposed on Tuesday committing 143.5 billion euros in grants next year to finance the EU's economic recovery and transformation, on top of 167.8 billion euros in grants that are to flow to EU countries from the annual 2022 EU budget.
The additional grants on top of the regular budget are part of the European Union's special Next Generation EU scheme agreed last year under which the executive Commission will borrow 807 billion euros in current prices and disburse it in grants an cheap loans to EU governments until 2026.
The extra money is to help finance the 27-nation bloc's recovery from the coronavirus pandemic and the transformation of its economy into one that does not eventually emit CO2 and that is more digitalised.
"Today, we are putting forward unprecedented levels of financial support to reinforce Europe´s recovery from the health and economic crises," EU Budget Commissioner Johannes Hahn said.
"We will invest in Europe's resilience and its modernisation via the green and digital transition. Getting Europe back on track, speeding up its recovery and making it fit for the future are our main priorities," he said.
($1 = 0.8210 euros)