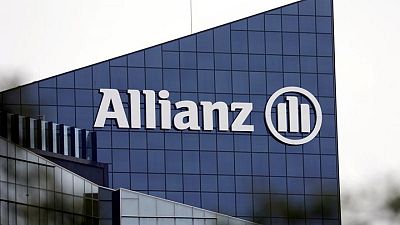 -
FRANKFURT (Reuters) -German insurer Allianz on Wednesday posted a better-than-expected 83% jump in first-quarter net profit from a year earlier, as it recovers from pressure on business from the coronavirus pandemic.
It said it saw a rebound in its property and casualty division and its life and health segment, and it confirmed its 2021 profit target.
It reported net profit attributable to shareholders of 2.6 billion euros ($3.15 billion) in the three months through March, up from 1.4 billion euros a year earlier. The figure beat a 2.04 billion euro consensus forecast.
"This is an encouraging kick-off for 2021 and makes us confident to reach our 2021 targets," Chief Executive Oliver Baete said.
The company said it continues to expect an operating profit this year of 12 billion euros, plus or minus 1 billion euros.
Last year, the insurer abandoned its 2020 profit target due to economic uncertainty resulting from the pandemic. It posted its first decline in operating profit in nearly a decade.
Allianz, like other insurers, faced clients making claims for business interruption and cancelled events from lockdowns, while demand for car and travel insurance fell.
"I clearly see a return to our normal earnings power," said Giulio Terzariol, chief financial officer.
($1 = 0.8247 euros)
(Reporting by Tom Sims and Alexander Huebner; Editing by Maria Sheahan and Emma Thomasson)