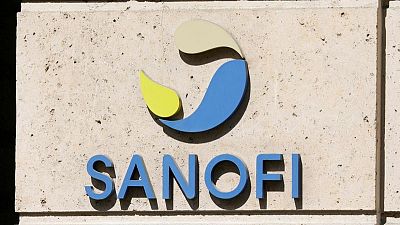 PARIS (Reuters) – Sanofi confirmed its 2021 targets on Wednesday after it posted stronger-than-expected results in the first quarter, helped by sales of its star eczema treatment Dupixent and vaccines.
The French drugmaker, which stunned investors last year with a delay of a COVID-19 vaccine candidate it is developing with Britain's GlaxoSmithKline, said it expected results of a phase II study evaluating the shot next month.
Sanofi has since tried to appease critics with deals to fill and pack millions of doses of vaccines made by Pfizer/BioNTech, Johnson and Johnson and Moderna.
It is also teaming up with U.S. company Translate Bio to bring a second COVID-19 vaccine of its own to the market that it hopes will be ready next year.
Sanofi's first-quarter net income was up 14.7% at 2.017 billion euros ($2.43 billion) at constant exchange rates. Revenue rose 2.4% to 8.6 billion euros.
While sales of speciality care, which include revenue of Dupixent, and vaccines grew by 15.3% and 5.3%, respectively, revenue of the consumer healthcare unit fell by 7.3% as a result of lower sales of cough and cold season products.
($1 = 0.8284 euros)
(Reporting by Matthias Blamont; Editing by Christian Schmollinger and Krishna Chandra Eluri)