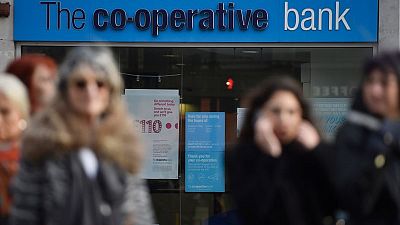 LONDON (Reuters) – The Co-operative Bank said on Wednesday that J.C. Flowers and Bain Capital Credit had agreed to buy a minority stake in the company from an existing investor, alongside results that showed the lender's turnaround was ahead of schedule.
The two buyout groups were set to buy the 10.01% of the company's A shares and 12.05% of the B shares currently owned by BlueMountain, Co-Op Bank said in a statement, without giving financial details.
The deal remains subject to regulatory clearance.
In a separate statement, Co-Op Bank Chief Executive Nick Slape said the bank had made a pretax profit of 7.2 million pounds in the three months to end-March, and the lender's restructuring plan was ahead of schedule.
(Reporting by Simon Jessop; Editing by Dhara Ranasinghe)