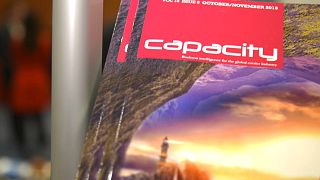 From 5G networks to the Internet of Things, from clouds to optical fibre. The next chapter in the history of telecommunications will be written by these technologies. How is the industry of this sector preparing the new revolution which will change the way we communicate?
This edition of Target takes a closer look.
The telecommunications sector is ready for a new huge step forward. Growth in this market is expected to continue over the next few years as demand for data services is increasing.
Safe and faster connections, the Internet of Things and data storage are critical for businesses and the day-to-day life of consumers.
"How will our ways of communication change in the near future? What new leap is the telecommunications industry preparing? At the Capacity Europe conference, in London, the giants of this sector have unveiled the next stages of this revolution: 5G networks, new types of clouds and optical fibre," reports euronews' Claudio Rosmino.
The standards and performance of the telecoms galaxy are going to be improved to a level unimaginable even just a few years ago. The arrival of 5G broadband, most likely in 2020, will open revolutionary new opportunities. But as complexity often means vulnerability, extraordinary security conditions will be needed. In this context artificial intelligence will play a key role.
"We are trying to predict where the market is going. For us, we think Artificial Intelligence is not just about words, it's something that is real, it is coming. It is already being commercialized in
several industries, in particular in the financial industry," says the Product Director of Capacity Europe, Vanessa Barbé.
5G, which relies on fibre optic networks, is 10 times faster than today's 4G, and offers lower latency and greater capacity. However, to manage such a complex 'ecosystem' will require greater calculation power and enhanced storage capacity.
"The technological evolution, like 5G and the Internet of things, for instance, makes the need for intelligence, or extra calculation power more and more relevant from a performance point of view, as we will increasingly use sophisticated machines. So, there will still be large infrastructures like the big data centres processing most of the information, but we will also need more intelligence far away from these infrastructures, close to the outskirts of the network," says the Vice President, Line of Business IP & Data at Sparkle, Giuseppe Valentino.
Often considered as the internet tool to guarantee safe financial transactions, and originally devised for digital currency operations, Blockchain technology is now finding other new potential uses, like, for example, in the field of data protection.
"Blockchain is now playing a role in terms in how companies interact. In particular how telecommunications companies do business together, conduct transactions together. So it underlies a new type of technology which is going to facilitate all sorts of different transactions in the telecommunication space," says the CEO of MEF, Kevin Vachon.
Since the EU's General Data Protection Regulations came into force, the need to guarantee privacy for individuals has been increasing, along with the need to fight online fraud.
"Data protection is something that is a big trend at the moment, with GDPR coming into play in the European Union and in Europe, it is something that everyone is talking about; our customers
at the end of the day want what protects their final users," says Vanessa Barbé.
According to a recent report issued by the world's main international carriers, fraud in the telecoms sector costs around 18 billion euros in revenue per year, with identity fraud one of the most common frauds.
"International fraudulent traffic costs the telecoms industry more than 50% of its total loss to telecoms frauds. Fraud in international traffic represents the majority as international traffic is much more expensive than national traffic," says the Head of Fraud Prevention Operations & Services at BICS, Katia Gonzàlez Gutiérrez.
So far the global industry has not yet found a common ground to face this challenge.
"My opinion is that we need a global strategy, a strategy of collaboration between the different parties, from the phone operators to carriers and suppliers of the telecoms industry. If everyone collaborates we could solve the problem, but if everyone works on their own it is very difficult," she insists.
The race for the future of telecommunications has started; 5G, the Internet of Things, clouds and optical fibres will be the foundations of a brand new 'ecosystem'.