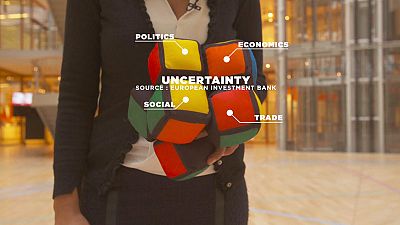 This edition of Real Economy, from the European Investment Bank in Luxembourg, looks at the kind of investments Europe needs. Be it public transport, energy efficient cars or city infrastructure.
Investment levels have improved since during the economic crisis but take a look at forecasts until 2018 and you see that it is stagnating and in some cases, actually below pre-crisis levels.
Think of trying to increase investment levels like trying to solve a Rubik's Cube. You are dealing with a complex set of barriers that range from regulation, to market size to political uncertainty.
One way to solve something this tricky has been the European Fund for Strategic Investments (EFSI) which Euronews has been telling you about for the past two years.
Here is how its done so far:
---
Crash Course:

EFSI
EFSI

is a tool to fill Europe's 500-billion euro investment gap.
In the 18 months since it kicked off,

EFSI

has approved hundreds of infrastructure projects and

SME

agreements across Europe.
In total,

EFSI

has raised 30.2 billion euros of financing, which is expected to trigger 164 billion euros in investment.
That is half-way to

EFSI

's target investments by 2018 of 315 billion euros.
EFSI

2.0 is proposal to extend this three-year investment plan
What will that mean?

The 'EU guarantee' increases by 10 billion euros and the European Investment Bank's (

EIB

) capital used towards

EFSI

projects will be raised by 2.5 billion, meaning

EFSI

will have a base of 33.5 billion, raising the target of investments to to 500 billion euros.
---
Conversation with European Investment Bank president – part one
Who better to tell us whether Europe's investment picture is dull and gloomy, brightening, or somewhere in-between, than EIB President Werner Hoyer.
Maithreyi Seetharaman, Euronews:
EFSI, EFSI 2..along with a flat lining in investment rates kind of indicates that maybe investing in risky projects isn't changing the environment – what is the missing link here?
Werner Hoyer, President of the European Investment Bank:
It is not just a question of speeding up the investment process. It is also the necessity to make the environment more favorable for more investment and I think this is where we are stuck.
Liquidity is there abundantly. Secondly, I believe projects are there which are very good. So why does this liquidity not go into these projects? The confidence of the people – you know – in order to get the investment machinery going again, that is still insufficient.
How does quasi-equity work? Why is it an important tool to deliver on the Investment Plan for Europe? https://t.co/uBtWGNwNEf#investEUpic.twitter.com/tLVt8FqIep

—

EIB

– the EU bank (@EIB) January 16, 2017
Maithreyi Seetharaman, Euronews:
Well, considering that corporates are the ones investing at this point compared to governments – Three times more than them – How do you push them further?.
Werner Hoyer, President of the European Investment Bank:
People need some certainty for their planning. If somebody who is expected to invest into renewable energies cannot be sure that the conditions for feeding in renewable energy into the systems will be changed after two or three or five years – then he or she will be very reluctant to take the risk.
Scroll down for part two of this interview.
---
Lisbon
The main job of governments nowadays is to give certainty. Infrastructure is one of the main weaknesses, both in the United States and in Europe. We must urgently improve our digital structures (for example, where you combine the electricity infrastructure of the city with the need to be able to transmit data in real time). Roads and Rail tracks and energy transmissions is another example.
Lisbon is one of those cities that is actually trying to do this – filling a gap left by a market failure in Portugal where municipalities can not go to the capital markets to raise money and banks are really struggling to give them the long term funding that they need.
So Euronews correspondent Daleen Hassan went to Lisbon to see how the city is planning to invest in its regeneration and infrastructure.
"Ambitious vision for a costly mission, Lisbon has plans to reinvent itself through several infrastructure projects.
"The new of look the city is backed by 250 million euros, a loan from the EIB under the investment plan for Europe, so how is Lisbon making the most of this money?"
The goal: making the city more attractive to visit, live and work in. The challenge: for the municipality of Lisbon to improve people's quality of life and generate more investment.
In addition to EIB's loan, another 274 million euros has been dedicated by the municipality to projects of urban renewal, and other parts of the economy, as Lisbon's mayor Fernando Medina told Euronews.
"The amount of 524 million that is going to be invested from public money, and public authorities. EIB and municipality in the next years in Lisbon," Medina said. "This investment is going to foster and grab a lot of private investment because in the city when we invest in urban renewal is a key issue to drive private investment for the city."
Solving the city's critical issues is key in its investment plan. 185 million euros for Lisbon's Drainage Master Plan (LDMP) to address flooding includes two tunnels crossing the city, creating more than 1,500 jobs during the project.
"The Lisbon Drainage Master Plan will be implemented for about 15 years," said LDMP's project manager Jose Ferreira. "The place we are here now is where we start the first drilling and we'll start the big tunnel. Five kilometers."
The drive for urban regeneration with social housing like in Boa Vista eco district is critical to allowing private sector companies to jump on board.
Gabriel Couto is one such construction company. It won a four million euro public tender to construct 50 housing units.
"Two or three years ago this kind of huge project was not possible to have in Portugal, but in our opinion they are not enough and we need more projects like this. In a contest like this you have around 15 to 20 construction companies competing to win this project," José Pedro Aguilar, Project Manager Gabriel Couto, told Euronews.
And that is the challenge across Europe: trying to balance the books, create investment opportunities and drive in investors to generate growth.
524 Million euros from EIB</a> & <a href="https://twitter.com/hashtag/Lisboa?src=hash">#Lisboa</a> municipality to be invested in <a href="https://twitter.com/hashtag/Lisboa?src=hash">#Lisboa</a> Mayor <a href="https://twitter.com/FMedina_PCML">FMedina_PCML told euronews</a> <a href="https://twitter.com/hashtag/RealEconomy?src=hash">#RealEconomy</a> <a href="https://twitter.com/maithreyi_s">maithreyi_spic.twitter.com/rviU61VH7B

— daleen hassan (@daleenhassan) January 17, 2017
---
Conversation with European Investment Bank president – part one
As cities such as Lisbon try and become investment "honey-pots" – the spotlight of lack of investment falls straight on Europe's SMEs, the continent's biggest employers.
Maithreyi Seetharaman, Euronews:
Mr. Hoyer, is this a case of a lack of access to finance or something far more fundamental?
Werner Hoyer, President of the European Investment Bank:
If the governments take the frame
work within which we would have to invest, if they strengthen this framework – then I believe that the the the inclination to go more into risk and to go back to entrepreneurial spirit which has always been the most important feature of our SME business in Europe will come back.
Werner Hoyer, President of the European Investment Bank:
Access to finance is a problem on the continent – where 80% of financing for SMEs and for corporates goes through banks – not through capital markets. So we are still at a huge investment gap.
Maithreyi Seetharaman, Euronews:
But will private banks start lending?
Werner Hoyer, President of the European Investment Bank:
Let's be honest — the maneuver space for commercial banks has also been reduced over this time and the public bank I believe has the job to boost the investment engine again by financing good projects.
This year I am quite confident that we will have the stabilising effect also through the election process in many countries in Europe and I think this will give a new boost!
Maithreyi Seetharaman, Euronews:
Mr. Hoyer – on that note – thank you very much and thank you for watching. We'll catch you next time.
Bigger u r the more access to diff #finance u get. Micro & Small Biz in #EU don't get to diversify! #realeconomyeuronews</a> <a href="https://twitter.com/EIB">EIB 2016 pic.twitter.com/XQ4UuEzJwK

— Maithreyi (@maithreyi_s) January 9, 2017