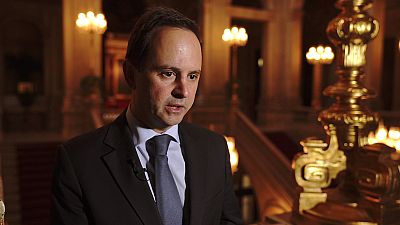 Mayor of Lisbon, Fernando Medina explains public investment plans and challenges.
Fernando Medina:
"The 250 million loan from EIB (European Investmant Bank) are a part of a total investment plan of more than 520 million, so 250 million form EIB and 274 million form the municipality. The investment and these programs from the EIB and mainly from the framework of Juncker plan. They are critical for Europe and also for Portugal and Lisbon.
"Europe didn't recover well from the crisis, so there is a need of a push from the public investment to support private investors and to support private companies to grow, so this program comes in a good time in the right time, the time that we need to put forward the public investment to support the private investment to come forward.
"The growth levels in Europe have been low – much lower than we need to lower unemployment everywhere. So this program, this project, this public incentive on public investments are very welcome are the key element to support the recovery of the economy to support a lot of companies that need this investment, the demands in additional to create jobs.
"The main challenge is just to achieve every thing that we dream, and every thing that we need to do. We do have a clear vision of the future of the city, what we have to do what we need to do.
"But doing is a different thing, well keeping the doing part as the same rhythm that we have the vision is probably the most challenging is dealing with the frustration of doing many things that we want to do, with the happiness of achieving many things that we want to do. So putting forward the vision then creating the projects, finding the financial support to the projects, building the team, this is very challenging part, very demanding, but it is a great job to have."