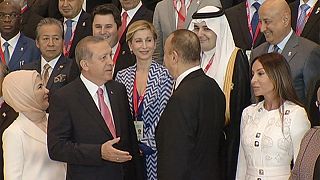 Two thousand five hundred heads of state and government officials, religious leaders and civil society representatives from 120 countries have attended the 7th Global Forum of the United Nations Alliance of Civilizations in Baku, Azerbaijan. It is a political initiative to promote inter-cultural dialogue.
It's so important to be able to ally all of the civilizations in order to show, first of all, that hate speech can't be linked to religion. It's something that is related to violent feelings
Organisers, faced with increasing acts of terror and an intensifying war in Syria decided that this year the focus would be on countering hate speech and preventing violence.
"Hate speech is propagated through the media, through the Internet, that's why it's so important to be able to ally all of the civilizations in order to show, first of all, that hate speech can't be linked to religion. It's something that is related to violent feelings," says the UN's Counter-Terrorism Committee Executive Director Jean-Paul Laborde.
Officials and activists say those who use hate speech to stir discord in the name of religion and radicalize young people unfortunately have all the tools they need.
Facebook has become the forum of choice, an easy place for terrorists to infiltrate and then use to promote violence and recruit.
One of the top three websites visited by people under the age of 18, it is a happy hunting ground to snare vulnerable, impressionable minds.
"There are images and videos that are produced by extremist groups, like Islamic State, for example, like ISIS. They totally propagate these ideas, but also incite individuals to violence. They even teach them how to conduct attacks, how put together bombs and devices. And this clearly shows the trend with moving towards incitement, and this certainly should be pulled down," says Research Fellow & Manager of the International Centre for Political Violence and Terrorism Research, Jolene Jerard.
However, not only social media sin in the proliferation of intolerant messages.
As the flow of refugees continues to rise worldwide, traditional media also play a role in promoting anti-immigrant rhetoric, mainly by giving unintentionally negative portrayals of refugees.
This always leads to consequences says the UN's High Representative for the Alliance of Civilizations. It becomes more difficult for migrants to become integrated into a new society.
"We see the wave of migration coming from Syria where the media play very negative role, saying they are threat to peace and security, they are threat to the economy. But all of us know: they are victims of dictatorship," says Nassir Abdulaziz Al-Nasser.
The participants at the Forum realize that it is not an easy task to counter hate speech in the media, especially on social networks when Facebook alone has almost 1.6 billion monthly active users.
However, they see a solution to the problem: to enforce laws that prohibit the incitement of hatred, to establish counter-messaging to hate speech and to force online services to restrict their content more.
"When we examined hate speech, when we examined the accounts that spread hate speech, there were anonymous accounts, fake accounts. So online services can use some strict control mechanisms to stop these anonymous accounts in social media. This is the first thing.
Secondly: our kids, our pupils should learn what social media are, what are the benefits and harmful effects of social media," says the University of North Carolina at Chapel Hill's Kemal Ilter.
The forum in Baku is not the first one devoted to fighting hate speech and violence. In December 2015, a symposium on the same subject was held by the United Nations in New York.
"At the conclusion of the cycle of forums, the organizers will publish a textbook in English, French, Spanish and Arabic. The publication will include concrete recommendations on how to avoid and how to combat hate speech and calls for extremism in the media," reports euronews' Maria Korenyuk.