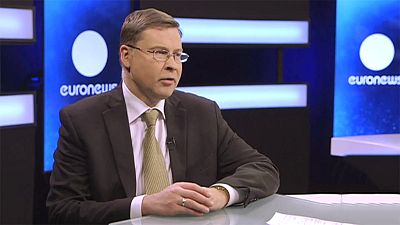 Maithreyi Seetharaman, euronews:
Are you hearing any criticism of the fiscal board not having enough teeth, the Competition Board not making sense across 28 – things like that?
Valdis Dombrovskis, Vice President, European Commission, Euro & Social Dialogue:
Well, as regards European Fiscal board it has several functions – it has function of coordinating national fiscal councils which are already set up. It has also a function of analyzing and providing advise on appropriate Euro area fiscal stance. And right now we are in the process of setting up this institution – Then as regards National Competitiveness Councils – it is a recommendation which we addressed to the member states of setting up those competitiveness councils there are quite a few member states which have already.. Institutions
Maithreyi Seetharaman:
But do they have teeth at the end of it – because to get results, to get it taken seriously organizations these institutions need to have teeth…
Valdis Dombrovskis:
I would separate two issues – as regards the very same competitiveness councils – as National Fiscal Councils – those are meant to be advisory institutions, which are monitoring for example Member States fiscal performance or member states Competitiveness factors and advising the governments if there are some deviations taking place. Then of course its still for the governments to take the decisions and still for the parliaments to legislate. And there is still the role for the European Commission to enforce Stability and Growth Pact and also to apply Macroeconomic Imbalances Procedure if we see Member states having problems with their Macroeconomic Imbalances including weak competitiveness.