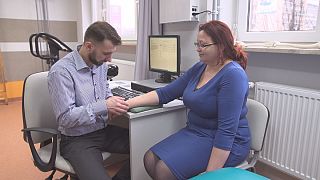 Poland is facing an uncertain future as its population ages and so putting pressure on workers, the economy and the healthcare system.
The investments made in this area today will give positive results in 20 or 30 years' time
Living through that demographic shift are people like 42-year old Monika Zientek, who has rheumatoid arthritis.
"My future is full of question marks, and I'm full of worry about the future. That's linked to the fact that I don't know how my illness I may have, I don't know how my health will be monitored, what access to doctors I'll have. So there are lots of worries about the future," she said.
As a country's population ages, so the number of people with chronic conditions like arthritis goes up. Those people often stop work well ahead of retirement age.
Physiotherapist Ernest Wiśniewski helps people stay fit for work. He can't halt Monika's condition, but he can make a difference.
"Here we have a clear problem in the joint. We can introduce mobilisation into the joints which will probably influence their flexibility, and affect the movement of the joints and the movement of the wrist," he pointed out.
Getting ready for the first piece to camera of the day in Warsaw for Euronews</a> Smart Care series latest report <a href="https://t.co/dSNChJGUk9">pic.twitter.com/dSNChJGUk9</a></p>&mdash; Jeremy Wilks (WilksJeremy) January 25, 2016
"The context in which this story is being told is one of demographic change across the EU.There's no nice way to say it, we're all getting older.
'If you look at the figures: At the moment there are four workers for every person who is retired. It's projected that by the year 2060, that will go down to two workers. And here in Poland, there could be just one person working for every retiree," reported euronews' Jeremy Wilks from Warsaw.
That challenge spurred Professor Boleslaw Samolinski to create a coalition of several hundred experts in medicine, economics and government healthcare to discuss the way forward.
"For me probably the most important result of this project was to build awareness that politicians today have a mission to construct health security and the return of people to the labour market. The investments made in this area today will give positive results in 20 or 30 years' time," opined the professor.
With that awareness in mind, what kind of action should be taken? Rheumatologist Professor Brygida Kwiatkowska, Medical Director,National Institute of Geriatrics, Rheumatology and Rehabilitation gave her opinion.
"We have to take concrete steps to deal with an ageing society. Firstly improve the pro-family policy in Poland so that young people decide to have more children, or even children at all. Secondly keep as many people of retirement age in the labour market as possible. Thirdly prevent people leaving the labour market because of long-term illnesses."
Applying those changes across a country of 38 million people is a huge challenge, and one in which the voice of the patient has to be heard.
"As a patient, I would like there to be dialogue between the patients associations and the organisations that decide on our treatments. Only with dialogue and collaboration are we able to overcome the barriers that arise," said Monika Zientek.
As Poland's population ages, the importance of that dialogue and collaboration will only increase.