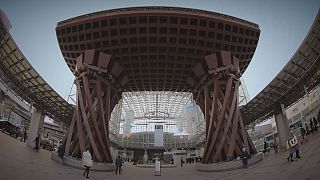 In this week's episode of Target we go to Kanazawa, in the west of the archipelago. It is on UNESCO's Creative Cities Network for its traditional craft and folk arts and is fast becoming one of Japan's new "must see" destinations.
Our correspondent Serge Rombi said: "Kanazawa's economic boom dates back to the time of the Samurais. Its exceptional architecture, which escaped bombardment during World War Two, its cuisine, and most of all its fabulous craftsmanship, are the origins of its success."
The Kenrokuen garden is one of the most beautiful in Japan and also without doubt the most visible remnant of the nearly 300-year reign of the Maeda clan.
During their rule, the Maedas called upon the most respected master craftsmen from all corners of the country to cement Kanazawa's burgeoning reputation in the arts.
Today, Kanazawa is famous for its silks, its ceramics and its enamels. It also boasts of being the benchmark for Japanese gold leaf production.
Gold leaf craftsman Ken-Ichi Matsumura explained the history of the process: "This technique has existed for 430 years here at Kanazawa. And we still use it today…. With this technique, gold leaf production takes around two weeks."
The gold leaf is inserted between two special pieces of paper. It is then hammered until the craftsman obtains a thickness of some 0.2 microns. One hundred gold leaves from Kanazawa weigh less than two grammes. The gold leaves are essentially used to decorate temples or sanctuaries, but they are also used on numerous artisanal products.
In the historic quarter of Geishas, tourists can also rent houses. The machiya is a typical Japanese design, with its tatamis, sliding doors and space reserved for the traditional tea ceremony. A unique experience.
"In this house, there's a Japanese garden. And then as we're in the Geisha quarter, we can also hear them playing the Shamisen and the drums. It's fun and very relaxing," explained Harumasa Masaki, from Machiya Kanazawa.
Railway magic
With its immense glass dome and Torii, its 14-metre high traditional wooden doorway, Kanazawa's train station is widely regarded as one of the world's most beautiful.
It is here too where the new Shinkansen passes; the high speed train that travels at 260km/h linking Tokyo to Kanazawa in 2.5 hours compared to just under four. At least 40 percent of the line is tunnels and comfort and security are extremely important according to Naoki Kobayashi, manager at JR East International.
"The system detects primary seismic activity, the first signs of an earthquake. All Shinkasens operating in the region are immediately stopped. In total security."
The signs are that the new Shinkansen are already boosting the economy in the Hokuriku region. The first tickets for the Tokyo to Kanazawa service sold out in barely 25 seconds.