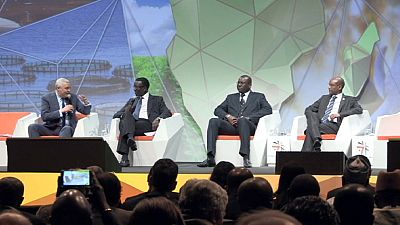 The African economy is gearing up a notch, and now as the continent has to work together to make the most of it, Morocco is positioning itself as a motor of African integration. Of course there are still problems. So what are the main levers to use so that Africa can take its place in the world of international trade? Euronews asked political and economic leaders meeting in Casablanca, Morocco, at the international African Development Forum.
The African continent is changing. Strong population and economic growth, natural and agricultural resources, and an emerging middle class have resulted in growth which attracts international investors. It's almost a new frontier. Africa has swept away the systems of the past and begun a profound transformation, moving through it stage by stage.
Zahra Maafri, the Managing Director of Maroc Export, said: "More and more African countries are setting up ambitious development strategies. They started with basic infrastructure like education, health, housing, and agriculture. And each country is now part of a region and can produce goods labelled "Made in Africa" for the international market."
Amadou Gon Coulibal, the Ivory Coast Secretary General of the Presidency, said: "We need big markets within Africa but also we need countries to trade with international markets. As a specific example I take economic partnership agreements which can be signed between the Economic Community of West African States, a market of some 300 million people and the EU. I think it's important for African development that the continent industrialises. And we need standards within the African business environment to be the same as elsewhere in the world."
Committed defender of African integration, Morocco is an regional economic and financial hub, a hotspot for international investment in Africa. But South-South dialogue isn't enough in itself. African development can only prosper with a triangular co-operation model, North-South-South.
Amadou Ba, the Senegalese Minister of Economy and Finance, said: "For Africa the most important thing is that African states discuss and communicate with each other. So it's good to see that Moroccan banks are investing in Senegal and other countries. And we have to maintain a triangular dialogue between multilateral institutions, Northern countries and African countries."
Mohamed El Kettani, the CEO of Attijariwafa Bank, said: "South-South cooperation is vital. So we must create larger, cross-frontier trading spaces. We have to make the most of the mutualisation and the complementarity of our resources and our economies. But we can't do without the North, because today in Morocco we are meeting international investors, from Europe, the US, and Asia, who are making Morocco a platform where part of the value is created in Morocco, another part in the North, and a third part in the countries south of Morocco."