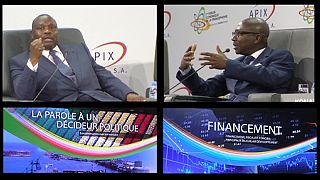 According to the latest report from the International Organisation of Francophonie, ie francophone countries, 760 million people will speak French by 2060 compared to just 220 million today, and 85% of them will live here in Africa. By which time the continent will have become an important centre for economic exchange. So how should strategies be implemented now in order to help young people in this future? Euronews asked political and economic leaders who were meeting in Dakar, at the first ever Economic Forum of Francophone Countries.
According to the Senegalese President,Macky Sall, the francophone world is "an economic force", representing 16% of the world's GDP, 14% of the world's natural resources, and 20% of global trade. And trade instigated by French being spoken in around 30 countries are responsible for 6% of each inhabitant's average wealth and for 0.2 percent of employment. So there are plenty of reasons for optimism, although there are still shadows on the horizon. Poor quality education damages African prospects of developing as does poor infrastructure. For example, Africa has almost the same size railway infrastructure as India, but Africa is ten times larger.
Jean Louis Ekra, the CEO of Afreximbank in Egypt, said: "It's not surprising that young Africans are keen to find out what we're setting up for the future. We need to get the stage where everyone tries to become self-employed because Africa is growing so fast, in terms of population as well as in economic terms. So it's important to encourage an entrepreneurial approach in young people and that's not just a job for governments, but also a job for everyone because it's a cultural value."
Jean Jacques Bouya, Congolese Minister of Spacial Planning, said: "The biggest potential, in this region and in all francophone countries, is in our young people. More than 60% of the population is under 30 years old. That's a valuable resource, and more so when they have appropriate qualifications and training so that all of them can contribute to the development of their countries. And that's what happens when we put the appropriate infrastructure in place."
Another problem is extending banking and financial facilities in francophone countries. Very few people have bank accounts in francophone Africa. And what is needed is centralised banking supervision body, along with a legal framework.
Evelyne Tall, Ecobank, Senegal, said: "We need all the countries to contribute. We also need governments to decide how to train and guide young people so as to have a real dialogue between them and the banking sector. It's true that our generation allowed itself to wait and never see results but that will not be acceptable for the next generation. Our children want the promised land."