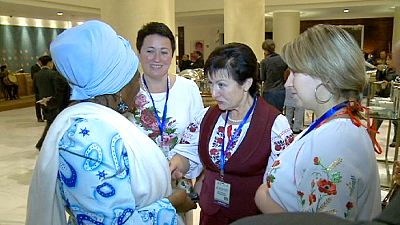 From Mongolian calligraphy to Turkish coffee, ancient and living traditions from all over the world are the centre of global attention in Baku. The capital of Azerbaijan is hosting the Committee for Preserving Intangible Cultural Heritage, which aims to draw up a list of things that are part of the "intangible heritage of the planet''.
Cecile Duvelle, Chief of the Intangible Heritage Section, said: "Intangible heritage is a complex phrase which describes a very simple reality. The word "intangible" gives an impression that it does not exist. But in fact intangible heritage is something very concrete. It consists of all of the expressions, skills, and knowledge which we pass from one generation to another and which is a part of our cultural identity."
Mounted shrimp fishing; world cuisines, traditional medicines, performance arts… this year there are dozens of candidates hoping to join the list.
This session of the Committee coincides with the 10th anniversary of the adoption of the Convention for the Preservation of Intangible Cultural heritage by UNESCO's General Assembly.
Francesco Bandarin, the Assistant Director-General for culture, UNESCO, explained: "In ten years we have completed a first cycle of ratifications, the establishment of the process, inscription of many sites. Now we have to do the second step. To create in all the member states the technical skills, the capacities, the institutional and technical capacities to conduct the convention and its purpose which is not only inscription of course but especially the safeguarding of this heritage."
The List of Intangible Heritage in Need of Urgent Saving is shorter, and includes this traditional Azeri game played on horse-back. Abulfas Garayev, the Minister of Culture and Tourism of Azerbaijan, explained: "This is a forerunner of the modern game of polo. And our task is to save and restore traditions, to create equine centres, and to promote this game. We already organize championships and we see that this game is worth people's interest."
Member States are required to preserve items on the urgent list so that the world's intangible but priceless heritage can be passed to the next generation.