Bankruptcies in the EU rose by a quarter, latest figures show
Comments
By Sandor Zsiros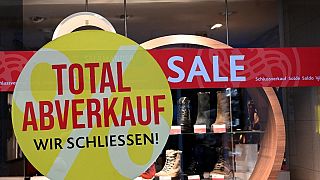 Businesses in the EU declaring bankruptcy increased by a quarter last year, according to the latest figures released by Eurostat, the bloc's statistical office.
In the three months to September, the number of firms going bust compared to the April-June quarter was 25.7% higher.
According to Luca Visentini, secretary-general of the European Trade Union Confederation (ETUC), the pandemic is pushing Europe to the brink of social unrest.
"These people have to be helped. In a situation where it is not possible to reopen, they have to be compensated, otherwise, we will have social unrest starting and people protesting because they did not receive enough compensation to be able to comply with the rules," Visentini told Euronews.
And with the EU due to start giving out its €750bn pandemic recovery fund, following approval from MEPs this week and a final rubber-stamping by the European Council, Visentini is urging national governments to spend this money in ways that protect citizens.
"The member states are so afraid of creating new debt, despite the fact that the new debt is for free because the interest rates are close to zero now. So, there is no reason to use this alibi of debt not to continue the emergency measures," Visentini said.
"The member states must continue spending to protect people and protect companies, protect workers in the labour market. Otherwise, the money they receive for the recovery will be useless because they will never be able to recuperate from this situation if it is not addressed now."