Coronavirus: Euro area economy shrinks by 12.1% — biggest drop on record
Comments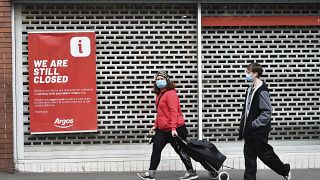 -
The eurozone economy shrank by 12.1 per cent in the second quarter of 2020 compared to the previous one — the biggest drop on record, Eurostat announced on Friday.
Gross Domestic Product (GDP) for the whole European Union is meanwhile projected to have fallen by 11.9 per cent, according to preliminary estimates by the bloc's official statistics agency.
"These were by far the sharpest declines observed since time series started in 1995," Eurostat indicated in a statement, flagging that the April-June period was "still marked by COVID-19 containment measures in most member states."
No country was spared the economic impact of the global pandemic but the Spanish economy was hit the hardest, contracting by 18.5 per cent.
Portugal, which closed its border with Spain very early in the pandemic and imposed strict measures to halt the spread of the virus, registered the second-biggest contraction in the bloc at 14.1 per cent.
The Iberian peninsula is followed by France and Italy — two countries hit hard by COVID-19 — which registered drops of 13.8 per cent and 12.4 per cent respectively.
Among the Member States for which data was available, Lithuania appears to have fared the best, with its GDP falling by 5.1 per cent. Germany, seen as a model for the containment of the virus, shrank by 10.1 per cent.
The EU Commission warned in May that it expected the bloc to go through a "recession of historic proportions" in 2020 and doubled down on the statement earlier this month, announcing it expected the recession to be "even deeper" than it had initially forecast.
Brussels now projects that the economy of the 19 countries using the common currency will contract by 8.7 per cent this year. GDP for the wider EU is expected to shrink 8.3 per cent.
European leaders agreed after marathon talks earlier this months to create a €750 billion recovery fund to help the bloc weather the economic storm brought about by the coronavirus pandemic. The plan includes €360 billion to be dolled out as loans and €390 billion in grants.
Money for the grants is to be raised through the issuance of common debt — a first for the EU.