French eurozone plans to hit German speed bump
Comments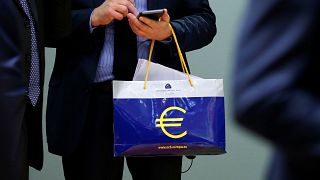 Copyright

REUTERS/Francois Lenoir
The reform of the euro zone, an urgent project of European power houses France and Germany, might see some sudden roadblocks after all.
On Monday finance ministers of the currency bloc gathered in Brussels to discuss further steps in preparation of the EU summit next week.
But the new German government needs time to settle in, while complex projects such as a European banking union require extensive talks.
Nevertheless, French finance minister Bruno LeMaire believes that urgency is of the essence.
Given the political situation in certain European countries and the increased risk of a global trade war, there can only be one conclusion, he said: speed things up!
Yet, LeMaire's sense of urgency is not necessarily shared by his peers.
Eight northern European countries reject the idea of sharing more risks before member states have reduced their national debts, as Dutch finance minister Wopke Hoekstra pointed out.
"This is all about conditionality and there should be risk reduction first and risk mutualisation second, as for other events has crucial importance".
His argument seemed to be gaining weight after the Italian elections.
The spectacular rise of populists in that country could complicate future reforms, according to Daniel Gros, director of the Centre for European Policy Studies (CEPS), a Brussels-based think tank.
"A key issue is that even Paris has some doubts about putting risks together, because Italy has now shown that can be a country, a large country, which in the end has parties that might not follow the rules and therefore the ambitions in terms of euro area reforms have to be scaled down not so much in Berlin, but also in Paris".
Experts say, it is unlikely that any meaningful euro area reform will see the light of day before 2019 - the year of the next European elections.