Fastest growth in decade forecast for euro area economy
Comments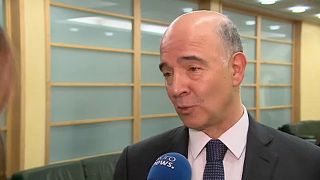 Despite all of the uncertainties, the euro area's economy is set to grow this year at its fastest pace in a decade, according to the European Commission.
But, amid the Brexit, its projections also slash the forecast for economic growth in Britain.
In the eurozone, the real GDP growth this year is forecast to be 2.2 per cent, much higher than expected. And the EU economy as a whole is expected to see growth of 2.3 per cent.
But Britain's forecast is slashed by point three of a percent, to 1.5 per cent, while n the Brexit year, 2019, growth is put at 1.1 percent.
Meanwhile, the events in Catalonia have hit Spanish growth, according to the country's prime minister.
But the European Commission's edged up its 2018 projection for Spain.
"We have seen that market reactions were moderate, the situation has to be handled politically, it's of high importance but we don't expect that it has a strong impact macro-economically for Europe, for the Eurozone, not even for Spain," said Pierre Moscovici, EU Commissioner for Economic and Financial Affairs, Taxation and Customs.
The economic forecasts come as the EU plans a blacklist of tax havens, with talks moving faster in the wake of the so-called Paradise Papers leak.
"It's name and shame. When a state is being pointed in this list you may be sure that his behaviour will be different. But I think that we also need to design, and that's the next step, appropriate sanctions for this and that state in the world whose territory will be in the list," said Moscovici.
Asked whether any EU member states are going to be in the list, he replied: "Wait a minute, wait some months."