Commission suggests eurozone overhaul
Comments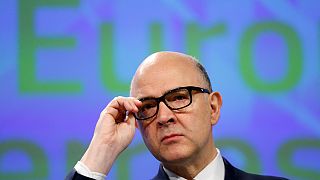 The eurozone needs a radical overhaul of the way it works, the European Commission says.
The EU executive suggest that a single finance minister, budget and treasury is the way to go.
Officials believe it would make the single currency more democratic by granting greater oversight powers to MEPs.
"The governance of the euro area cannot ignore democratic demands, we need democratic control, we need the strengthening of the role of the European Parliament to play this role," said Pierre Moscovici, the EU economics commissioner.
The former French finance minister said it could help bridge the gap between richer and poorer members.
"We can not have a two-tier Europe, and especially a two-speed euro, which means a reduction of divergence," he added.
The Commission also suggested that mutualising government debt would be another option, something which Germany has vigorously opposed.
It said the proposals were merely to start a debate, rather than a draft piece of legislation.