China slowdown could scupper eurozone recovery: EU
Comments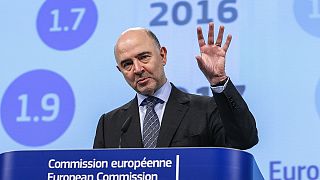 The slowdown in emerging economies such as China could derail the eurozone's fragile recovery, the European Commission said on Thursday.
The single currency area is also facing pressures from an increased flow of migrants and instability in the Middle East.
In forecasts released on Thursday, the EU executive cut its growth prediction for this year to 1.7 percent from 1.8 percent.
"Growth recovery is now solid in the EU and the eurozone but we also see there are downside risks that we have to take into account and the most important one is of course the slowdown in emergent markets and especially we are watching the situation in China," said Pierre Moscovici, the EU's economics commissioner.
Officials believe the main economies of the eurozone, Germany, France and Italy, will all fare worse than expected.
The Commission last released its economic predictions some three months ago.
Economists at the EU executive also warned a number of eurozone states to get their finances in order.
EU rules say that governments must keep their public deficit under three percent of GDP.
The forecast pointed to Italy and France as examples of two countries that need to do more to rein in spending and pursue structural reforms.