From a linear to a circular economy
Comments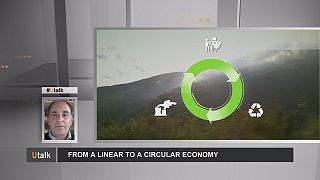 This week on UTalk, we answer a question from Claire in Brussels:
"We currently hear more and more about the circular economy whose objective is to break away from the prevailing linear (economic) logic. Could you tell us more about it?"
Edwin Zaccai
, Professor at the Free University of Brussels and Director of the Centre of Studies on Sustainable Development (Brussels), answered: "Indeed, the circular economy can be defined as the opposite of the linear economy.
"In a classical (= linear) economy, we produce, use, and then throw things away. As far as the circular economy is concerned, at the end of the process, the idea is to recycle products or parts of them in order to re-inject them into the loop."
He added: "Over the past years, we've already implemented the circular economy principles without naming it. Circular economy is quite a recent concept. But different recycling systems have existed for a long time.
"Some pretty clever regulations have proven to be successful such as the one on packaging recycling by manufacturers, or the one on electric and electronic goods recycling. And all these changes go in the right direction.
"When you buy a computer or an electrical item, you pay a small additional price to help recycle the product. That's what this eco-contribution means. It helps the industry to become more sustainable and less wasteful.
"So the whole idea is to strengthen such circularity so as to save resources and to realise ecomomic gains as well."
If you want to ask a question, go to the euronews website or to our social media pages.