Belgium bids to bring energy and internet projects online with EU boost
Comments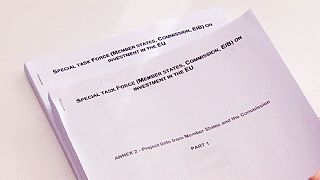 Belgium has released a blueprint for major change in the country, outlining a raft of infrastructure projects seeking EU investment.
It's all part of a recently outlined proposal to offer member states
the chance to bid for EU funding, in the hope it may spur the blocs economy into action.
Energy is fueling much of the discussion. With Belgium''s fossil fuel and nuclear options looking outdated and insufficient for current demands- offshore wind parks are getting a look in. So too is the idea of improving Belgium's connectivity with the energy networks of neighboring countries such as Germany, France and even the UK. Axelle Pollet, spokesperson for energy firm Elia noted the need for change:
"Belgium is a country that is really at the center of Europe and therefore , we need to participate in the construction of the European network to interconnect more."
Belgium is also vying for EU cash in other areas. Transport projects have been penciled, but plans to widen internet connectivity are turning heads.
Funding could see wifi installed in the public areas of a hundred cities. Whilst an online health platform allowing patients to be monitored via the internet has also been put forward.
But such projects would still be heavily reliant on private investment- something economist Gregory Claeys thinks they would struggle to secure.
"There are projects that I believe may not attract private investors who are looking for a positive return on financial investment. For it is they who will provide most of the funds, and in the end it might be up to them to select the right projects , those with high profitability and those who are not set to make enough."
The blocs 28 member states must now compete for a slice of the pie. EU bodies have promised to serve up of 21 billion euros in the hope it will stimulate investment totaling some 315 billion euros.