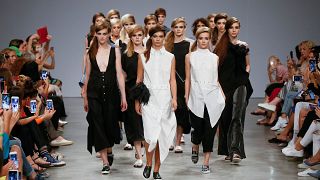 Fashion has gone through a revolution in Ukraine in the last few years and now it is considered to have a more and more important role in representing Ukrainian identity.
These days the streets of Kiev are full of creativity and new designs as the Fashion Week turns each corner and even a train station into showrooms.
Click on the video above and take a look at the dynamic and colourful fashion designs, the works of Ukrainian designers such as Jean Gritsfeldt, who will present his collection during the Paris Fashion Week and Rouslan Bagibski, who has world celebrities, like Madonna among his clients.
Stay tuned for more videos about fashion, culture and travel around Europe on Living it.
Video: Solas Films Ltd
Music: Yevhen Chystiakov