Savoir-Faire, poetry and surprise at Salon de la Haute Horlogerie 2018
"We removed the minute hand, so if you want to know the time in a very precise way, you should not use this watch" says Gregory Dourde, CEO of HYT. He is showcasing the Skull Bad Boy, a fine piece of watchmaking depicting a skull set with a tube measuring less than a millimeter in diameter, in which a black liquid circulates, expressing the time passing by like an animated memento mori.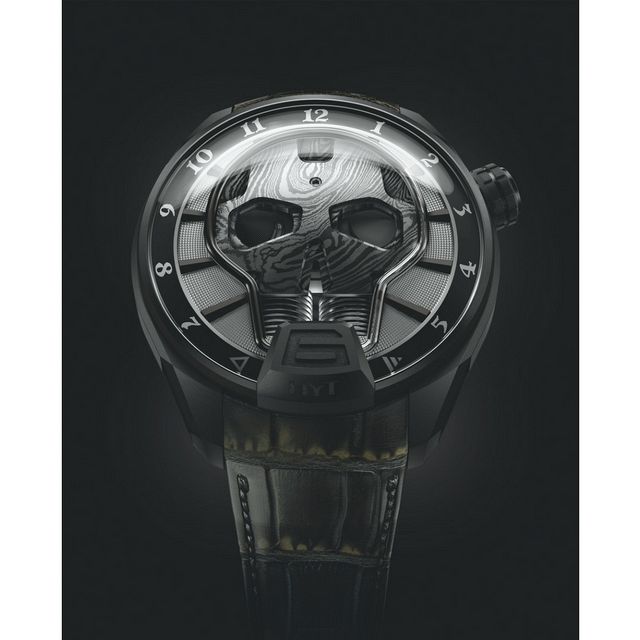 The idea may seem preposterous at first, but at the International Salon of Fine Watchmaking (SIHH), the functionality of the object is not really the main point. Be reassured, most watches do give the time – including HYT ones. However, aesthetics and creativity are what matter most.
"There are plenty of ways to read the time and we do not need to wear a watch for that anymore. What a jewellery brand like ours can bring is emotion and pleasure, which goes beyond the function" confirms Nicolas Bos, CEO of Van Cleef & Arpels
A cultural showcase of Haute Horlogerie
"When you wear a mechanical watch on your wrist, you have the chance to wear a living object," says Fabienne Lupo, director of the Fondation de la Haute Horlogerie (FHH), which organizes the event. "It's a puzzle of micro-mechanics, that requires special care. It's like a living organism with a heartbeat. It's very moving," she continues.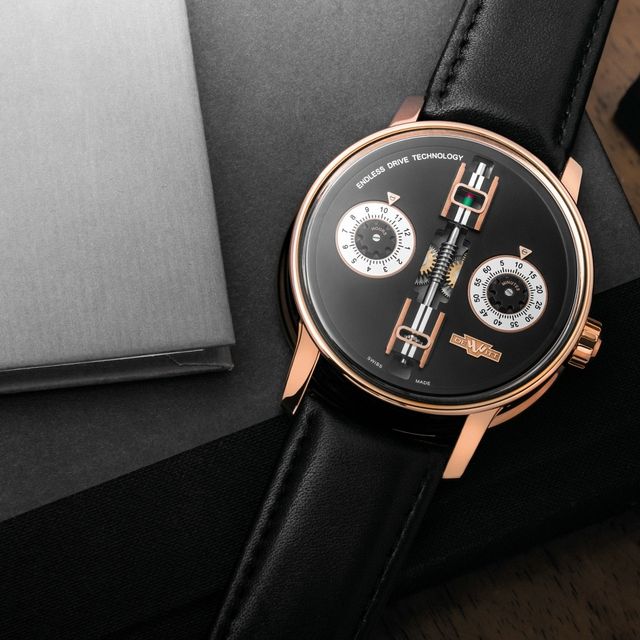 Academia Endless Drive DeWitt
Along with a panel of experts coming from various disciplines – watchmakers, historians, artists – she selects the exhibiting brands at SIHH. There are thirty-five of them this year. A record for this relatively confidential event, which is only 28 years old.
"This edition confirms a direction we have taken for the past two years. The one of being much more open", explains Fabienne Lupo. "Originally, the Salon was created to be private and professional, aimed at retailers and the international press. Today, we are looking towards customers, the public and collectors who want to learn more about the craft. We want to become the cultural display of fine watchmaking," she concludes.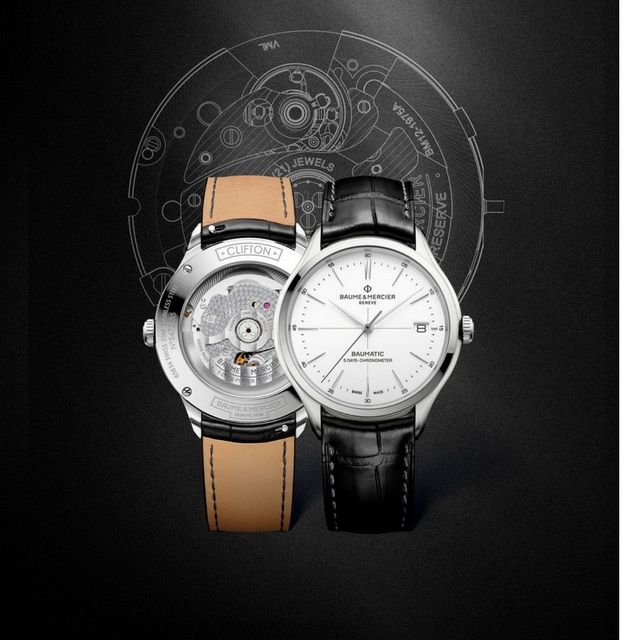 Clifton Baumatic Baume et Mercier
Crafts, heritage and Swiss know-how
Knowing precisely all the possible techniques to create beauty in functional objects such as clocks is a long-standing project at Cartier a>. It has even become a place, La Maison des Métiers d'Art, located in La Chaux-de-Fonds, in the Swiss Jura mountains.
In an old farm dating from the end of the 18th century and adjoining the main manufacture building, craftsmen are working to invent, or re-invent, handmade savoir-faire, sometimes forgotten, such as granulation, wood marquetry and filigree.
"We produce dials made of kingfisher feather showing iridescent blue, green, and mauve reflections. We have also kept a very important and precious stock of these feathers in our archives since 1908. It makes many museums quite envious", describes Pierre Rainero, director of style, heritage and image at Cartier, with a smile. "We also found a way to achieve the same with flower petals, which keep their colours," he continues.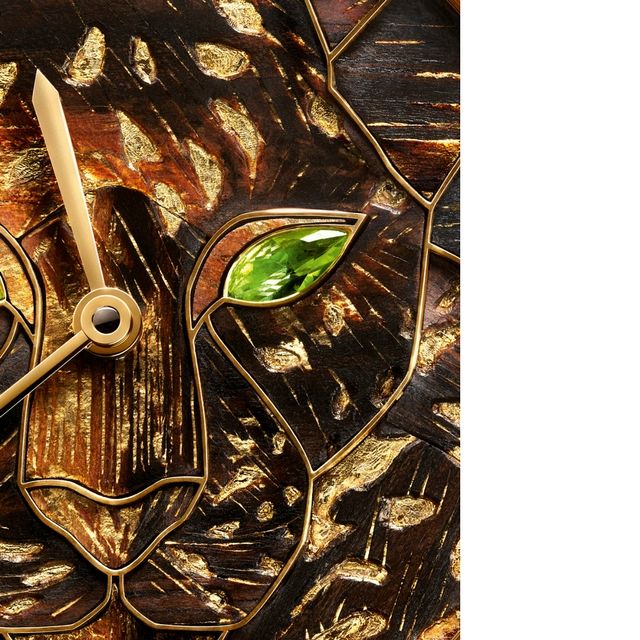 The brand unveils the Ronde Louis Cartier watch, made using an unprecedented technique: Macassaret ebony and 24-carat gold leaf marquetry. The artisan sands or engraves the surface until the desired detail is obtained: stain, line, effect of transparency, … to reveal, through the thickness of the wood, gold chips and a palette of wood shades in mordoric tones. About five working days are needed to make the panther's face appear in the center of the dial. A creation edited in limited series and numbered to 30 pieces.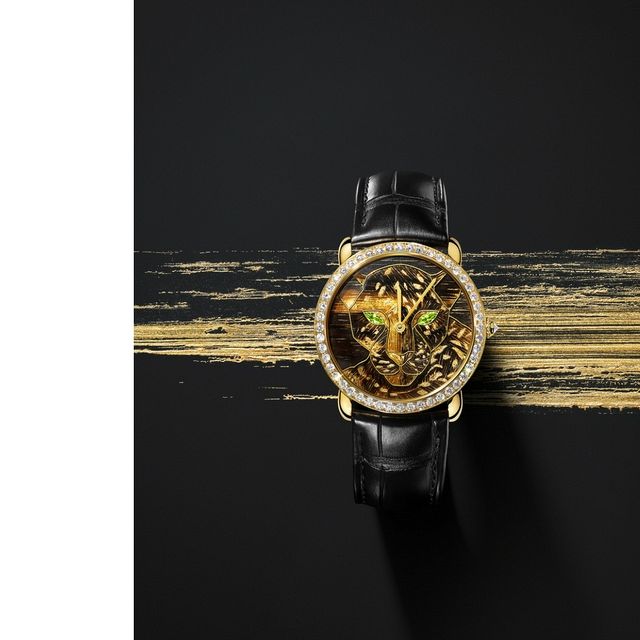 Karl Friedrich Scheufele, CEO of Chopard, also participates in the promotion of Switzerland's watchmaking heritage. He acquired Chronométrie Ferdinand Berthoud in 2015 and is exhibiting for the first time at SIHH, in the Carré des Horlogers, which is reserved for independent brands.
"As I was working on completing our Chopard Museum in Fleurier, I came across an old piece by Ferdinand Berthoud, a marine chronometer. I discovered the depth of this historical character and became passionate about the topic, "he explains.
Une publication partagée par Living It (@_living.it) le 20 Janv. 2018 à 9 :58 PST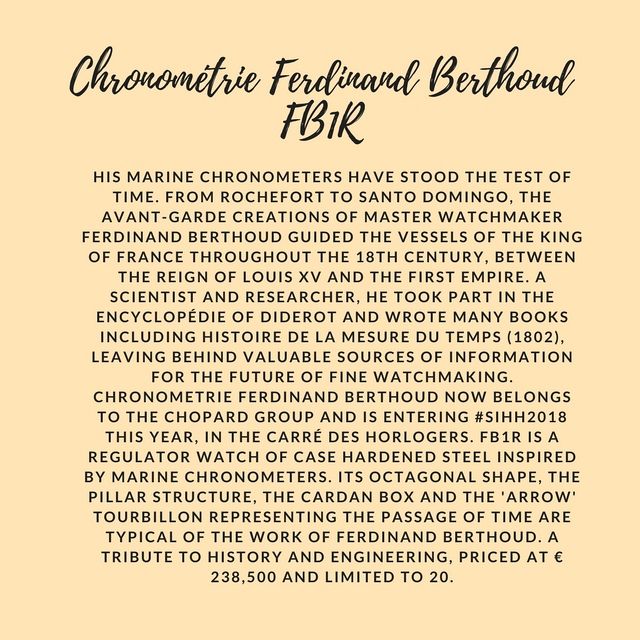 Poetry, surprise and emotions
Traditional savoir-faire is not synonymous with conformism or classicism. Admittedly, these objects are designed for long term – and given their sometimes astronomical price, we really hope so. But none of these brands are resting comfortably on their own heritage. They are all looking for one thing: to surprise the customer.
Une publication partagée par Living It (@_living.it) le 18 Janv. 2018 à 6 :50 PST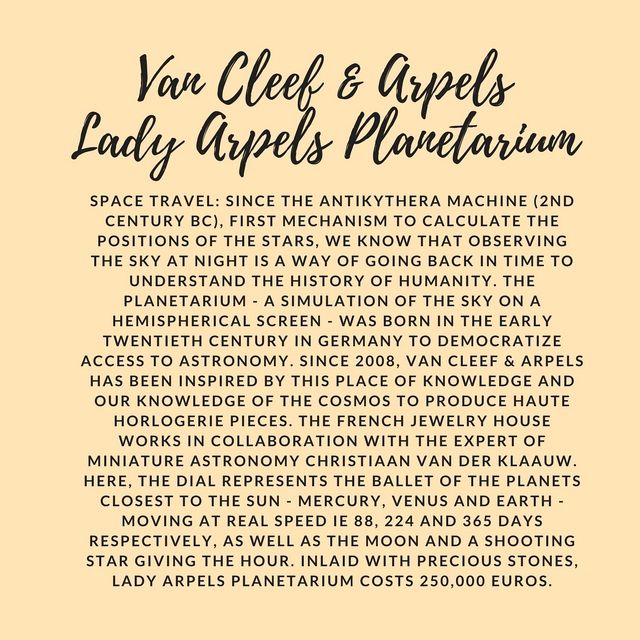 HYT innovates by offering the "hourglass of the third millennium", Van Cleef & Arpels amazes by reproducing a miniature planetarium to wear on the wrist, and Ulysse Nardin surprises by issuing a new version of a vintage erotic watch, which mechanism is highly prized by collectors.
Une publication partagée par Living It (@_living.it) le 19 Janv. 2018 à 11 :48 PST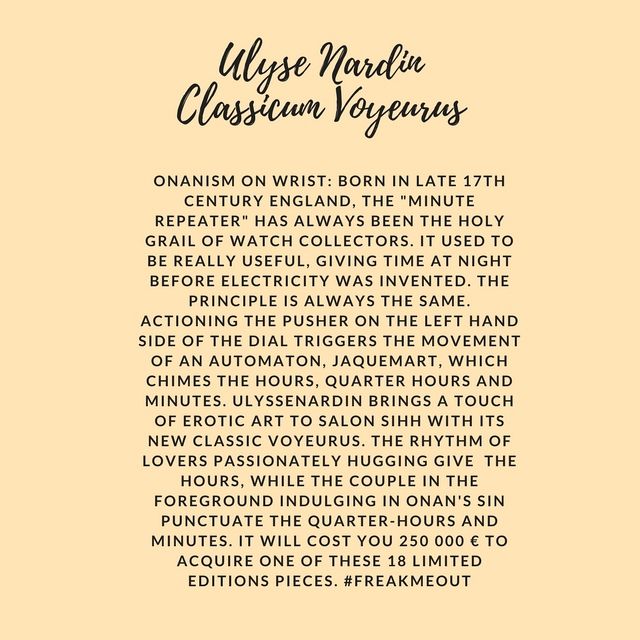 A new approach for the Salon International de la Haute Horlogerie that appeals to both luxury brands such as Hermès joining the list of exhibitors for the first time this year, and the public with attendance enjoying a 20% increase compared to last year bringing to 20,000 the number of visitors, including 2,500 enthusiasts from the general public.
Header Picture: Cartier Libre Collection, 2018