Organic peace silk, upcycled seashells and discarded CDs are some of the material he works with.
Nature has always inspired couture fashion, but Italian master craftsman Tiziano Guardini goes one step further, integrating a love for nature in his materials that won him a PETA Fashion Award and a Green Carpet Fashion Award in 2017.
Using organic peace silk, which is made without boiling the cocoons of the silk worms, recycled nylon, and hand-embroidered sequins that have been created from upcycled sea shells and discarded CDs, his work straddles extraordinary artisanal skill with innovative practice.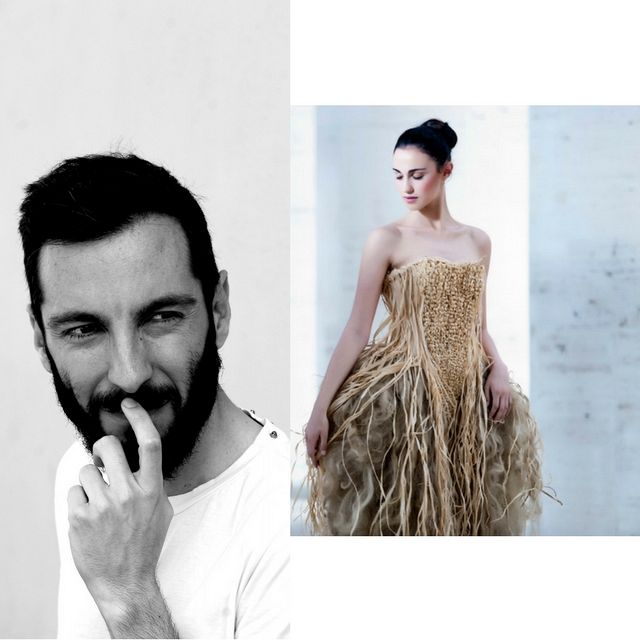 Left: Tiziano Guardini | © Photographer: S.Cavalli
Right: Design by Tiziano Guardini
Guardini took an unconventional root into the fashion industry, first studying a degree in Economics, before completing a Masters in Product Management, which led him to collaborate with several fashion ateliers in his hometown of Rome.
It was then that he started creating. One of his first ever pieces was a coat made of pine needles which he created for the 2012 edition of Limited/Unlimited, an exhibition held during Altaroma fashion week.
Since then, he has toured his incredible pieces around the world, including dressing models for the Alternative Hair Show at London's Royal Albert Hall, participating in the Fashion For Forest/Forest For Fashion show at the United Nations in Geneva, and winning a Bronze Hempel Fashion Award in Beijing.
Unsurprisingly, his dream for 2018 is to grow on this and "sell everywhere in the world." The attention he's received from famous names this year and accolades he's earned are sure to move him closer to achieving it.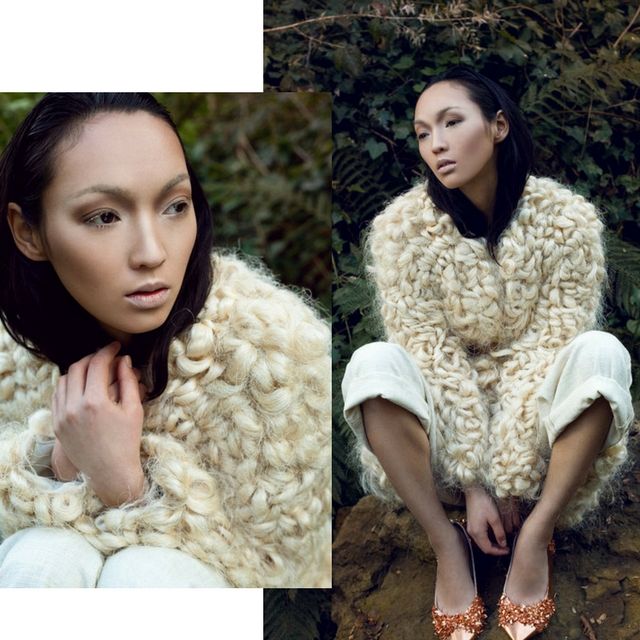 Designs by Tiziano Guardini
He's also producing some of his best work to date, describing the outfit that won him Best Emerging Designer at the Green Carpet Fashion Award as a particular favourite. It also gave him the opportunity to meet fashion royalty "I was so pleased to hug Naomi (Campbell)! I'm joking… it's a dream that came true," he jests of the moment he was presented the trophy.
The award-winning outfit was a sequinned slip dress featuring an octopus motif, signifying protection for the wearer; the woman Guardini describes as a "nymph". The delicate embroidery is airbrushed with non-toxic dyes and the accompanying coat, in complementary marine shades, is made from recycled fishing nets and other ocean waste.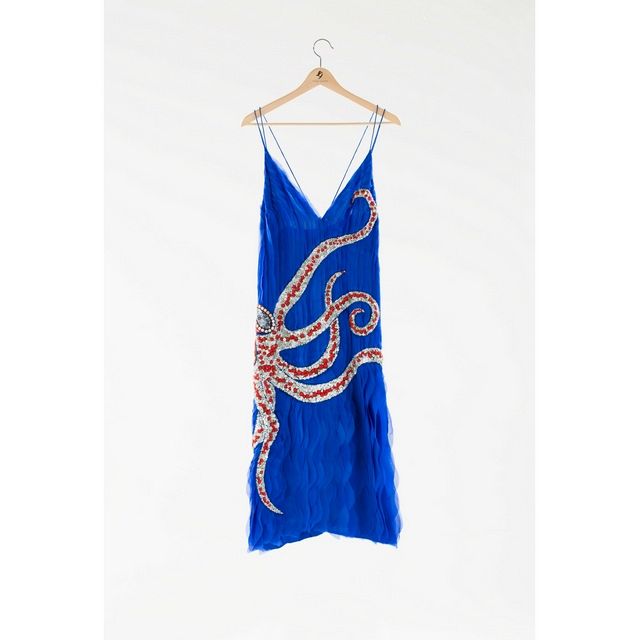 The Green Awards dress by Tiziano Guardini
He submitted the outfit as a piece that not only demonstrates his skills in sustainability but also "tells his idea of fashion as art, and emotion to be shared and experienced."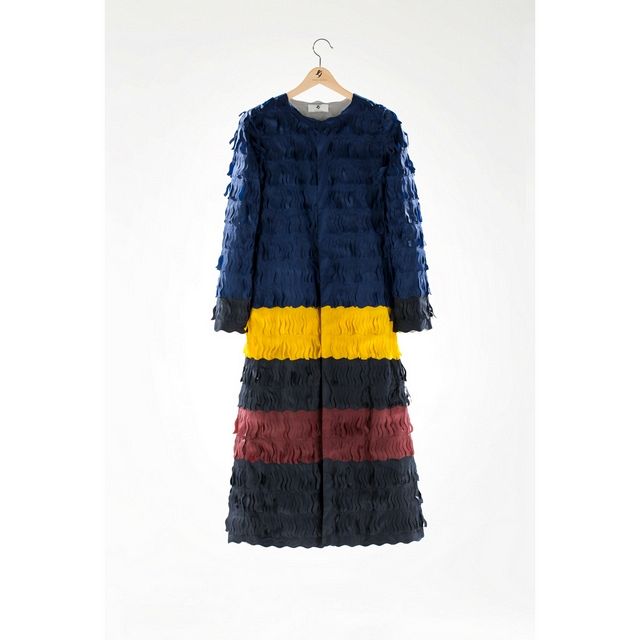 The Green Awards coat by Tiziano Guardini
This year was the first year for the awards, organised by Livia Firth's Eco-Age consultancy and communications agency, and marked a significant step forward for the luxury fashion industry in celebrating sustainability. However, for Guardini, the connection between the two worlds has always been obvious,
"Luxury is about choices; my brand can offer a sustainable choice." His hope for the coming year is that we'll see more of these choices offered to fashion lovers, and that the big labels start to implement these changes to. After all, Guardini is an example for many others to follow, where his focus on sustainability actually enhances his designs, something Firth described as "an incredible jump forward." Writer: Olivia Pinnock
Follow Olivia on Twitter @OliviaPinnock