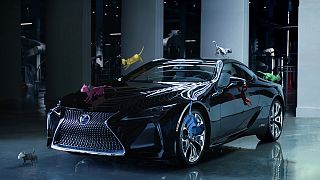 Meet the Lexus Takumi master craftsmen, the most senior craftsmen at Lexus. It is their responsibility to ensure that excellence is reached at every point of the car making process. Each Takumi uses hand and eye to meticulously inspect and control their particular part of the manufacturing process, whether that be engine casting, paint, or body stamping.
To reach Takumi status, Lexus craftsmen must undergo a number of challenges. One of these tests, and possibly the most unique, is the 'origami cat test'. To demonstrate their incredible dexterity and attention to detail they must fold a perfect origami cat in under 90 seconds. If that isn't challenging enough, they have to do it with their non-dominant hand.
It takes more than just great technical expertise to be a Takumi craftsman. Decades of experience hone the Takumis' craft, with many spending thousands of hours learning how to detect the tiniest imperfections.
Although leading edge technology manufactures our components with exact precision, the human touch is always present. Many Lexus parts are hand assembled and flawlessly finished by the assigned Takumi master craftsman.
The Takumi way runs through the whole Lexus assembly facility. These master craftsmen not only devise the process that keeps the lines running smoothly, but they are also responsible for training and inspiring other technicians. Meanwhile the plant's team members are working incessantly to improve their skills and reach the level of Takumi.
Beyond the assembly line, the wider philosophy of Takumi is infused into the entire Lexus business. Mediocrity is not accepted. Every detail is thought through and improved to such an extent that everyday objects have become artistic creations.
You can watch how this video was made from behind the scenes, and you can find more videos about Lexus' audio experience and about stepping into the future with the Valerian SKYJET.
This partnered content is brought to you by Lexus