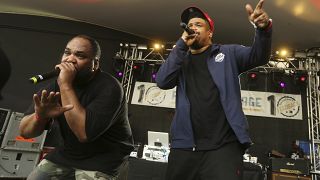 -
Copyright

Jack Plunkett / 2017 Invision
David "Trugoy the Dove" Jolicoeur, founding member and one-third of the legendary and innovative hip-hop group De La Soul, has died at the age of 54.
Jolicoeur co-founded the Long Island trio alongside Posdnuos (Kelvin Mercer) and Maseo (Vincent Lamont Mason Jr), and went on to make their name in the late eighties and early nineties, standing out as a more lighthearted alternative to the burgeoning gansta rap scene. 
They melded samples, funk and jazz influences, and their debut album – 1989's '3 Feet High and Rising' – often appears on lists of the greatest albums of all time. It included hits like 'The Magic Number' and 'Me, Myself and I'.
In 2010, '3 Feet High and Rising' was added to the National Recording Registry by the Library of Congress for its historic significance.
No cause of death has been given, although Trugoy, who was also known as Plug Two, had previously discussed his congestive heart failure.
De La Soul was honoured at last week's Grammy Awards in Los Angeles during a tribute to the hip-hop genre. Trugoy was not onstage with his group mates.
Following news of Trugoy's death, many paid their respects.
Earlier this year, De La Soul announced that the first six albums in their catalog would be returning to streaming services on 3 March.
Next month, they'll be re-releasing '3 Feet High and Rising', 'De La Soul Is Dead', 'Buhloone Mindstate', 'Stakes Is High', 'Art Official Intelligence: Mosaic Thump', and 'AOI: Bionix' to streaming services.