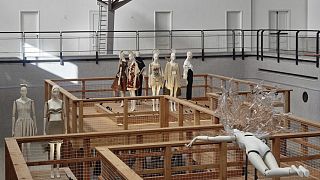 Euronews reporter, Ines Fressynet says, "Craftsmanship or the production of handmade objects employs no less than 50 million Europeans. You probably don't know all of these skills, and that's precisely the work of the Michelangelo Foundation. To showcase the best of luxury craftsmanship know-how to design professionals and the general public, through a major exhibitions opening its doors today in Venice".
Alberto Cavalli, Executive Director of Michelangelo Foundation says, "Homo Faber represents Europe with its open arms so we will have artisans coming from Portugal to Russia, Iceland to Sicily. A real competitive advantage of our own continent, these unique know-hows and savoir- faire constitute a real heritage that here we want to display with a kaleidoscope of exhibitions and points of view".
Among the 300 craftsmen, these Florentine weavers are the last ones to work on 17th-century wooden warping machine. In another room, this neo-artisan and silversmith makes bicycles using modern tools.
India Mahdavi, Interior Designer and Curator says, "I designed these two exhibition spaces to showcase how craftsmanship and know-how can feed and serve the imagination of a designer. My work is based on emotions that only the hand can create. I like the little imperfections of the handmade object. The unexpected brought by artisan work".
You are also invited to take the matter into your own hands inside an artisan workshop.
Homo Faber, which means 'man the maker', is open on the island of San Giorgio Maggiore, free of charge, until September 30th.