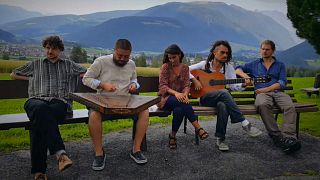 Their career may have begun on the streets of Istanbul, but now they are one of the most sought-after groups at music festivals across Europe. They are called, "Light in Babylon"
Mixing gypsy, classical and oriental sounds, the band sings in both Hebrew and Turkish. Marked by strong vocals, their songs speak of love and desire and the search for home.
Euronews caught up with the group recently at the Kribis Krabis Music Festival in Valdaora in northern Italy.
"Muslim people write to me, we love your music, you make me cry, you make me emotional. Buddhist people write to me; Jewish people write to me, Christians, Atheists write to me. All kinds of people write the same things. So it means we have succeeded, we did something. We go beyond language and culture, we talk to the human being inside each of us," Singer-songwriter Michal Elia Kamal explained.
Describing their musical style, guitarist Julien Demarque said: "We are bringing many elements but we just try to mix it together so our music is a bit diverse……There is always gypsy music, classical music, Turkish music – Balkan music, as well, is similar and popular."
The group already have three albums under their belt and are busy making their fourth.