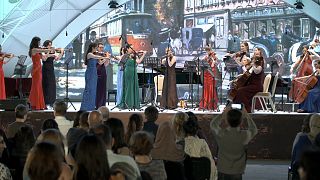 Kicking off in the middle of these picturesque mountains in northern Azerbaijan, is this year's Gabala International Music Festival.
It showcases ensembles and music from around the world – but a special place is always reserved for Azerbaijani composers and ethnic music.
Katy Furmanski, who plays the double bass, explains the appeal of Azerbaijani music:
"I had never played any music whatsoever by an Azerbaijani composer before I started working with Femusa and it's been absolutely wonderful to learn these works which have a very unique style to them."
The all-female chamber orchestra Femusa is a UK-based ensemble led by Azerbaijani born violinist Nazrin Rashidova.
Rashidova, Femusa's artistic director, says: "The idea to start a female chamber orchestra came in the last year of my Masters. When I made some research to find that there hasn't been one in the UK in Britain since the 1950s.
"Playing in a female orchestra has its advantages and disadvantages. On the plus side, it's beautiful to watch, and the minus, well, we're a little temperamental."
Femusa's players consist of 11 nationalities and performed a world premiere of a piece called Three Valentines, written especially for them by the British composer Paul Lewis.
Next year, the Gabala Music Festival will celebrate it's 10th anniversary season.