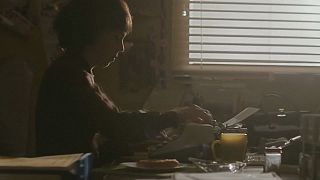 Amazon's latest original series is based on the book 'Good Girls Revolt' by Lynn Povich,' about a group of women employed by Newsweek magazine in the 1960's who ended up suing the magazine for discrimination in the workplace.
It's the Good Girls Revolt NY premiere tonight and it's looking star studded: https://t.co/qekSXwxTKepic.twitter.com/oXb6U8LKOE

— CelebIntelUSA (@CelebIntelUSA) October 18, 2016
At Newsweek, back in the sixties, researchers put together reporting files for their reporters, who then wrote the stories. Reporters were exclusively men, until a group of female researchers demanded the same opportunities as their male counterparts. Spurred on by civil rights activist and lawyer Eleanor Holmes Norton, they sued Newsweek, and won.
The Good Girls Revolt: How the Women of Newsweek Sued Their Bosses and Changed the Wo https://t.co/zmAGVgwFwgpic.twitter.com/uXTBLDvS9B

— Bryan Leroy (@BryanLeroy4) October 13, 2016
The series had its world premiere in New York. Actress Genevieve Angelson plays researcher Patti Robinson:"Among these women were some of the most dynamic thinkers and writers and artists, Lynn herself, a woman named Judy Gingold, an incredible poet, or Ephron we now know, and they banded together and they sued the magazine and they really changed the face of the workplace for women forever."
Actor Chris Diamantopoulos plays magazine editor Evan Woodhouse in the series. He said the series is particularly relevant today as sexism and inequality in the workplace remains a timely subject matter:
"What's great about this is it's the last year of 60's and it bridges into the 70's. And I think that there is definitely some overtones between what was happening back then and what is happening now particularly politically and socio-economically."
'"Good Girls Revolt"':http://variety.com/2016/scene/vpage/amazon-good-girls-revolt-relevant-donald-trump-1201893985/ is set to be released on October 28, 2016 on Amazon Video.