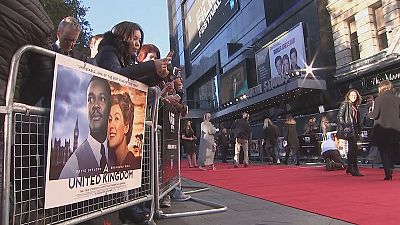 An impressive 248 feature and documentary films are being screened at this year's London Film Festival.
Many of them tackle issues of race and diversity, like Amma Asante's 'A United Kingdom', chosen to kick off the festival, marking the first time a black female director opened the event.
Starring David Oyelowo and Rosamund Pike, the film is inspired by the true-life romance between the first president of Botswana and his English wife.
"We need to see more films that reflect the society we actually live in, especially because of how influential film, TV, media in general is, culturally," said Oyelowo. "I mean the estimation of who we are, what we believe in as human beings is very much rooted in the films we see because they are supposedly a reflection of the lives we live and the societies we live in."
The film was shot both in the UK and in Botswana, where it is partially set, which Amma Asante said was crucial for telling the story: "It's not a generic story, it's a specific story about that country and its journey towards independence, some of its journey. So for me, it's really important that if you are doing that you have a respect for the country, you have a respect for the people and you have some of its DNA in your film, to be able to absorb what the traditions meant, you know, metaphorically. I think it's really important if you are able to wake up and see the sunrises in the country that you are going to tell the story of," said the film's director.
Also screening at the London Film Festival – Barry Jenkins' gay black drama 'Moonlight', which has already garnered Oscar buzz for its subject matter and performances.
Set in Miami in the 1980's, the film tells the protagonist's story in three chapters – as a skinny child picked on by his peers, a bullied teenager trying to understand his sexuality, and as a hardened man who goes by the name 'Black'.
Executive produced by Brad Pitt, the film is based on Tarell McCraney's play 'In Moonlight Black Boys Look Blue'.
"When I read Tarell's (McCraney) piece it grabbed me in such a way that I thought it would be cowardly to not make it," said Jenkins. "To be moved, so moved by something, and as someone who's a visual storyteller, to not create… at least attempt to create a story out of it would have been, I think, a cowardly act. So, again, I'm happy that the movie is getting the attention it is but at first it was about doing justice to the characters."
Also receiving its European debut in London, Bollywood love story 'Mirzya', which marks the debut of Harshvardhan Kapoor, the son of Slumdog Millionaire star Anil Kapoor.
The London Film Festival runs until October 16.