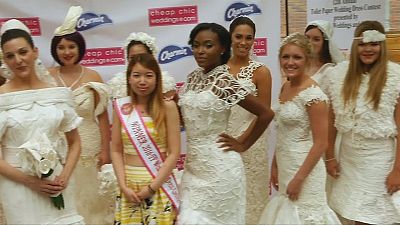 You don't have to be rich to have a designer wedding dress and it doesn't have to be made of the finest material. Every year the Toilet Paper Wedding Dress Contest is held in New York city, an ideal event for budget-conscious nuptial planners. At this year's were 10 finalist designs chosen from 1,500 entries. The contest was created 12 years ago by Cheap Chic Weddings, an online store to help couples have the wedding of their dreams regardless of budget.
Casting her eye over the designs Cheap Chic's Susan Bain said: "We are surprised every single year. Every single year."
"But if you look back at the old photos we're like – wow! – they keep evolving. And some of the people who have entered more than once they get even better and better. And then the new people come in a shock us as well," added Bain's colleague, Laura Gawne.
The designers were restricted to toilet paper, glue, tape, and needle and thread. Between nine and 70 rolls were used for dresses in this year's competition.
The winning dress, dubbed Winter Lust, was designed by Brooklyn resident Van Tran, who said she had been inspired by her first snow storm experience:
"I actually just recently moved to New York and was inspired by the snow storm that I recently saw. I was like, what happens when you have a winter wedding, it's beautiful. What would you wear? So I definitely developed like a snow queen kind of type."
Van Tran won a Grand Prize of $10,000, almost 9,000 euros, enough for a life-time supply of toilet rolls… or wedding dress material.