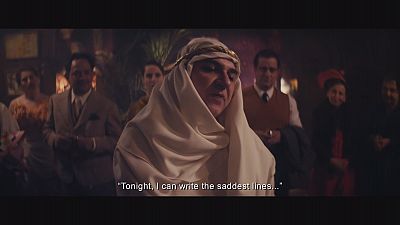 For his latest film, "Neruda", Chilean director, Pablo Larrain, has once again teamed up with the Mexican star, Gael Garcia Bernal. The film follows the Chilean Nobel Prize-winning poet, Pablo Neruda, who becomes a fugitive in his home country in the late 1940s after joining the Communist Party. Film critics have praised García Bernal's outstanding performance in this cat-and-mouse political thriller.
"The character is fascinating," explained actor Gael Garcia Bernal. "There is so much to work with. It's a very malleable character and a really fun one to play. So those were the main starting points and then, of course, the other dimension of poetry, the character of Neruda, politics. It just became a great adventure."
The film, which is seasoned with a touch of humour, is not a biopic but more an unusual "poetic thriller" mixing historic facts and fiction.
"We don't use the kind of humor that comes from comedy," said film director Pablo Larrain. "It's circumstances or a paradox that might be absurd. Humour is an excellent way to say things that would otherwise sound very preachy, you know?"
"Neruda", which was shown as part of the Directors' Fortnight selection, will be released later this year.
This trailer promises a very beautiful and interesting film on Pablo Neruda. https://t.co/tmYb9ItP7E

— Deepa Kumar (@dipaah) 18 May 2016