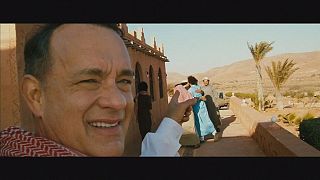 Adapted from the best-selling novel of the same name by Dave Eggers, 'A Hologram for the King' stars Tom Hanks as a washed up businessman, who travels to Saudi Arabia to sell a holographic video conferencing system to the King.
After opening at the Tribeca Film Festival in New York, the film had its UK premiere in London. The Oscar-winning actor explained what drew him to the story.
"We're always trying to find something's that's going to fascinate us, as an audience member, that's going to be off the beaten path as a general movie, and if you're going to go off to a place like the north of Africa for the better part of three months and make some film, let's make it something that's not exactly part and parcel of the standard entertainment machine," he said.
Partly shot in Morocco, the film is directed by German filmmaker and screenwriter Tom Tykwer, who said he wanted to underline the comedic potential of a rather melancholic story in his adaptation of the novel.
The film also sheds light on the reality of life, particularly for women, in Saudi Arabia with Sarita Choudhury's character playing an accomplished surgeon, who's not allowed to drive her own car. It also touches on issues like public execution and manual labour.
Tykwer previously worked with Tom Hanks on 'Cloud Atlas' and was delighted to be reunited with him.
"I feel like reinvented as a director through him, yeah. He's the most radically experimental actor you can imagine. He goes anywhere to just try and see 'Is that interesting? Should we try this? Come on, let's go here!' and you're, 'OK, yeah, let's go there, I had never thought of that'," said Tykwer.
The film has been given a luke warm reception, with one critic saying that not even the mighty Tom Hanks can save this scattershot adaptation of Dave Eggers' lost-soul novel
'A Hologram for the King' rolls out in theatres around the world from now.