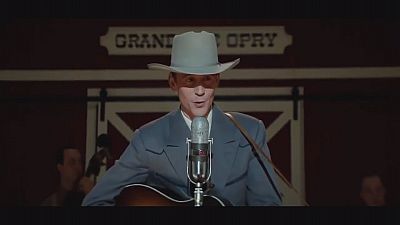 Tom Hiddleston may be hot property right now but his portrayal of American music icon Hank Williams in "I saw the light" has not been without criticism, even if most have applauded his daring to try.
Dead in 1953 aged 29, the film looks at Williams' last eight alcoholic years when he wrote the music that made him such an influential singer-songwriter.
It is classic celebrity flame-out writ large, and with a soundtrack vibrating with postwar American elan.
"Music is the most evocative and most immediate emotional art form I think. Singing is the most naked means of expression because there is nothing to hide behind. Actors hide behind their characters, writers hide behind there writings, artists hide behind there paintings or their sculptures. Singers, if you communicate anything as a singer, it comes from the heart," says British actor Hiddleston, who sings all the movies' songs.
Elizabeth Olsen plays Williams' first wife Audrey Sheppard, whose dual role as manager and duet partner shows how the merciless music business chewed up and spat out its talent, with or without their booze-fuelled assistance. Dating your leading man helps with the chemistry, at least. Or it should.
"This is around the same time as studios owning actors and people who are exhausted being given pills just so that they can keep going like an 'Energizer' bunny. And it's kind of the beginning of that weird time when everyone expected a performer to perform ad nauseum until they literally dropped. That is why we hear so many of these stories over and over again. A lot of them deal with people who already have inner demons, and then you throw them into the pressure of people asking way too much of them and then they get worn out," says Olsen.
Hollywood is currently in the mood for loving legends, or at least their box-office pull, with a slew of recent biopics or documentaries on Nina Simone, Chet Baker, and Miles Davis.
Other projects, on stars like Freddie Mercury or Michael Jackson, have proved more difficult to bring to the screen. They probably have tougher lawyers.