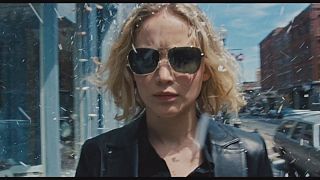 Jennifer Lawrence stars as a divorced mother-of-two who builds a business empire and becomes a millionaire in 'Joy'.
The film tells the story of Joy Mangano, a born inventor. Increasingly frustrated with ordinary mops, she develops the self-wringing Miracle Mop, which becomes a TV shopping channel best-seller.
Best known for her roles in films like 'The Hunger Games' and the 'X-Men' series, Jennifer Lawrence says she welcomed the change: "It was challenging but also exciting to find the personal and emotional balance between a woman who loves her children and loves being a mom but also has her own dreams and her own desires and ambitions and that's ok."
Director David O. Russell's stellar cast also includes Bradley Cooper, Isabella Rossellini and Robert De Niro, as Joy's father.
It's Russell and Lawrence's third movie together following 'Silver Linings Playbook' and 'American Hustle'.
"I don't seek to make it biographical," explains Russell. "I seek to make cinema that is surprising and that I haven't seen before, and in this case, my first picture with a woman at the center of it, a woman who has to earn her authority as the head of a family business from nothing, comes out of a metal garage her father runs, a bus garage, that was very inspiring to me."
Vying for two Golden Globes and two Critics' Choice awards, 'Joy' has received mixed reviews but near unanimous praise for Lawrence's performance as a strong woman determined to make something of her life.
'Joy' starring Jennifer Lawrence, Bradley Cooper and Robert De Niro, is on global release now.