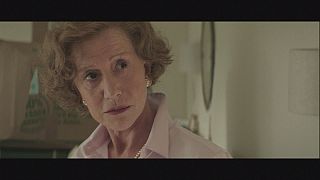 Dame Helen Mirren was literally mobbed by the crowd as she arrived for the world premiere of her latest movie 'Woman in Gold' at the Berlin film festival.
She was joined on the red carpet by co-stars Ryan Reynolds and Daniel Brühl – also a member of this year's jury – as well as the film's producer Harvey Weinstein.
'Woman in Gold' is the real-life story of a Jewish refugee's battle to regain ownership of five extremely valuable Gustav Klimt paintings stolen by the Nazis.
At the news conference in Berlin, Helen Mirren said that despite growing public awareness of the question of looted Jewish property, it's important for younger generations to keep such memories alive.
"The difficulty, obviously, is that the same story is being played out all over the world, you know, the activities of Boko Haram, the activities of ISIS and in so many other corners of the world, the same story is being told again and again and again, and people are suffering as we speak. So we mustn't ever feel we have come to the end of that particular human journey," said the award-winning actress.
Co-star Ryan Reynolds, who plays the role of the young lawyer who helped Maria Altmann win her near decade-long case, said it was the producer himself who drew him to the movie: "I read the script just like anyone else would. I got a call one day, I was shooting down in Louisiana, and I got a call from Mister Harvey Weinstein who said: 'Hey Reynolds, it's your lucky day.' And I know it was."
The film premiered to unfavourable reviews in Berlin with one critic calling it a treacly, sentimental treatment drowned in kitsch, while another branded it heavy-handed, deploring its total lack of nuance.
Screened at the Berlinale Special throughout the festival, 'Woman in Gold' opens in the US and Britain in April.