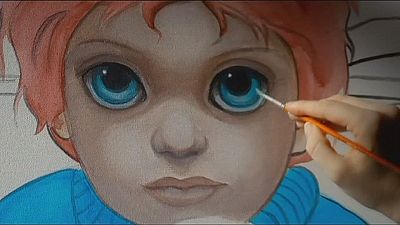 Tim Burton's latest movie 'Big Eyes' is based on the true story of American artist Margaret Keane, whose paintings of children with oversized eyes became a sensation in the Fifties and Sixties.
"It's kind of like a weird horror movie, love story, comedy, relationship – so I felt it was something that I could relate to," said Burton at the film's New York premiere.
Keane, played by Amy Adams, failed to receive acknowlegement for her work, after being bullied by her husband into letting him take credit for it. The truth eventually came out when the couple separated.
A savvy salesman, Margaret's husband Walter realises that profits go up if the credited artist is a man and if they sell reproductions in addition to the originals. Christoph Waltz, who plays Walter Keane, said it was the relationship between Walter and Margaret that drew him to the role.
"I knew the pictures. I didn't know the paintings – I knew them as postcards and calendars. And I also do remember my bewilderment, to say the least, about the odd proportions – not just the eyes, but the heads, as opposed to the bodies – and these somewhat flat and uninspiring backgrounds," he said.
To prepare for the role, Amy Adams met up with the real Margaret Keane.
"She's such a quiet character that, really, on the page, you have a lot to assume. So meeting her I got to answers to my questions and hopefully portray her in a way that was respectful and accurate," she said.
Their performances have already earned Waltz and Adams Golden Globe nominations.
While it has been described as a "unpersuasive" by one critic, the movie has received mostly positive reviews with one critic welcoming "Burton's melancholic love of the outsider once again taking centre stage" in this stranger-than-fiction tale that was a movie waiting to be made.
'Big Eyes' is on global release now.