Saudi oil attack: 'Looking like' Iran is responsible, says Trump
Comments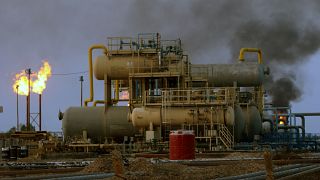 Members of the US Congress blamed Iran after an attack on Saudi Arabian crude oil facilities on Sunday but said the US should be careful about any retaliatory military action — especially because a clearer picture of who was behind the attack was needed.
President Donald Trump has said it is "looking like" Iran was behind the attacks, despite a claim from Houthi rebels that they launched the attack from Yemen, but insisted that he did not want war.
He said the US was prepared if for retaliation if it was warranted but would need "definitive proof" that Tehran was responsible.
The strikes knocked out more than 5% of global oil supply.
President Donald Trump tweeted on Monday: "There is reason to believe that we know the culprit," adding that the US was is "locked and loaded" and awaiting information from Saudi Arabia.
Senior US officials told reporters that damage from the attacks indicated they came from the direction of Iraq and Iran, not from Yemen.
Yemen's vice president Ali Mohsen Al-Ahmar condemned the attacks on the oil facilities in a tweet, saying they revealed Iran's "destructive role in the region" and its use of Yemen to stage operations.
"We condemn this blatant assault on economic security and stand with our brothers in the kingdom to deter Iran's malicious arms," said Ahmar.
But Iran has denied the attack and said it was ready for "full-fledged war".
NATO chief Jens Stoltenberg told AFP on Monday he was "extremely concerned" about the escalating tensions and accused Iran of destabilising the region.
"We call on all parties to prevent any such attacks occurring again because that can have negative consequences for the whole region, and we are also extremely concerned about a risk of escalation," he said.
US politicians condemn the attack
Mitch McConnell, the Senate's Republican majority leader, called it "a brazen attack" with significant implications for the global energy market and said he welcomed Trump's preparation to potentially release oil from the Strategic Petroleum Reserve to stabilize markets if necessary.
"I hope our international partners will join us in imposing consequences on Iran for this reckless destabilizing attack," McConnell said as he opened the Senate.
Senator Jim Risch, the Republican chairman of the foreign relations panel, warned of U.S. retaliation in case of an attack on U.S. troops.
"Iran should not underestimate the United States' resolve," he said. "Any attack against U.S. forces deployed abroad must be met with an overwhelming response - no targets are off the table."
But others were more wary of getting too caught up in Middle Eastern regional affairs.
Senator Chris Murphy, a Democrat who is on the Senate Foreign Relations committee, noted that the United States has long been wary of getting involved in conflicts between nations in the Middle East. He noted that Washington does not have a defense treaty with Riyadh.
"Why should the United States get dragged into a conflict that has more to do with Saudi and Iranian power in the Middle East than American power?" Murphy, a critic of Saudi Arabia on rights issues including its role in the Yemen war, told Reuters.
Surge in oil prices
Oil prices surged to six-month highs on Monday while Wall Street futures fell and safe-haven bets returned after Sunday's attacks.
US crude futures were last up 11% at $61.10 a barrel, coming off highs on expectations other global oil suppliers would step in to lift output. Brent crude soared 13% at $68.06 after earlier rising to $71.95.
The attacks heightened investor worries about the geopolitical situation in the region and worsening relations between Iran and the United States.
Those fears powered safe-haven assets, with prices for gold climbing 1% in early Asian trade to $1,503.09.
Moves in Asian share markets were small, however, with Japan shut for a public holiday.
MSCI's broadest index of Asia-Pacific shares outside Japan was a tick lower at 515.4. Australian shares were down 0.1% while South Korea's KOSPI was a tad higher.
E-Minis for the S&P 500 were off 0.4% while those for the Dow eased 0.3%.
"If risk appetite collapses due to fears of worsening middle east tensions in the wake of any retaliation to the drone attacks, some emerging markets could face a double whammy of pressures," said Mitul Kotecha, Singapore-based senior emerging markets strategist at TD Securities.
"In Asia, the most risk-sensitive currencies are Indian rupee, Indonesian rupiah and Philippine peso."
Want more news?