London slump drags UK house price growth to more than six-year low
Comments
By Reuters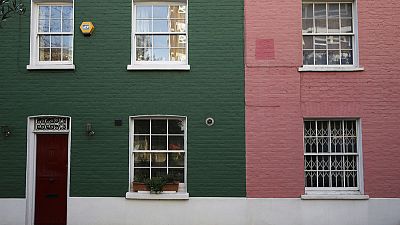 -
By Andy Bruce and William Schomberg
LONDON (Reuters) – British house prices rose at the weakest rate in six-and-a-half years in February, dragged down by London's biggest price slump in a decade as Brexit uncertainty sent chills through the property market.
Official data also showed Britain's consumer price inflation unexpectedly held just below the Bank of England's 2 percent target in March, offering relief to consumers whose spending has helped Britain's economy through the Brexit crisis.
House prices were just 0.6 percent higher in February than a year ago, slowing sharply from a 1.7 percent annual rise in January, the Office for National Statistics (ONS) said.
In London, house prices were down by 3.8 percent — the biggest drop since mid-2009. The malaise in the capital spread to the south-east of England, where prices fell for the first time since 2011.
Other surveys have shown Brexit to be a major drag on the property market in the capital, which is sensitive to flows of migrant workers from the European Union. A surge in prices in London in previous years has also stretched affordability.
House prices in London are now 6 percent below their mid-2017 peak, albeit a smaller contraction than an 18 percent decline during the financial crisis.
"It is possible that the avoidance of a 'no deal' Brexit at the end of March could provide a modest boost to the housing market through easing some of the immediate uncertainty and concerns," said economist Howard Archer from consultancy EY ITEM Club.
"However, we suspect it is more probable that with Brexit most likely being delayed until Oct. 31, prolonged uncertainty will weigh down on the housing market and hamper activity."
INFLATIONSTILLSEENRISING
Separately, the ONS said consumer prices rose at an annual rate of 1.9 percent in March, the same rate as in February. A Reuters poll of economists had pointed to a rate of 2.0 percent.
Sterling slipped against the U.S. dollar and the euro on the figures, while British government bond prices rose slightly.
Rising motor fuel prices were offset by falling food prices and computer game prices rising more slowly than they did a year ago, the ONS said.
Looking ahead, improving wage growth and poor productivity in Britain's economy are likely to push inflation above the BoE's 2 percent target by the end of 2019, said economist Andrew Wishart from consultancy Capital Economics.
"Nonetheless, with another Brexit crunch point looming in October and growth likely to be modest this year, we doubt the (Bank of England) will press ahead with another interest rate hike until next summer," Wishart added.
BoE policymakers have said they want to see firm evidence of domestic inflation pressure – chiefly from rising wages – building before they vote to raise rates.
They will likely be reassured by Wednesday's data that showed costs faced by factories for materials and energy – which eventually feed through to consumer prices – rose more slowly than expected in March.
(Editing by Andrew Cawthorne)