Collapse of Tesco re-trial casts cloud over British fraud agency
Comments
By Reuters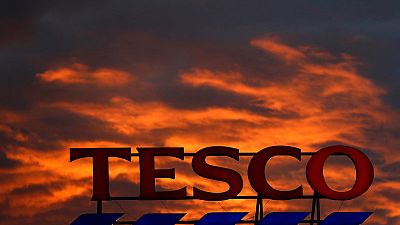 -
By Kirstin Ridley
LONDON (Reuters) – The UK Serious Fraud Office (SFO) defended itself on Thursday against criticisms of "serious failings" after the collapse of a high-profile re-trial of former Tesco <TSCO.L> executives, insisting the prosecution had been in the public interest.
New SFO director Lisa Osofsky has pledged to take on the "big guys" since she took the helm in August, a year after the elite investigator and prosecutor narrowly avoided a government push to roll it into a broader crime-fighting force.
But the dramatic collapse mid-trial of the case against two former senior executives at Britain's largest retailer, over a 250 million pound accounting scandal, has cast a spotlight on how the agency handled the case.
Judge John Royce ruled that Christopher Bush and John Scouler had "no case to answer" and that the prosecution was in parts too weak to put before a jury. The men were acquitted after an SFO attempt to seek an appeal failed.
The SFO said its charges had been properly brought. "…we were content that there was sufficient evidence to proceed (with a retrial), and that the public interest was met in doing so," it said in a statement.
But Maria Cronin, a partner at law firm Peters & Peters, called on Osofsky to carefully consider what went wrong, why the case was ever prosecuted, and how the agency addresses "these serious failings" in the future.
Sarah Wallace, a senior lawyer at Irwin Mitchell, urged the SFO to apply more rigour when gathering and assessing evidence – and more realism about who to put in the dock.
"Her (Osofsky's) team (is) still investigating a number of high profile historic cases so they will need to ensure that those are not evidentially flawed, otherwise there will be renewed calls for the SFO to be dismantled," she said.
Osofsky launched an organisational overhaul on her arrival to "progress our cases at pace".
Her predecessor David Green was praised by politicians for securing deferred prosecution agreements and filing unprecedented criminal charges against Barclays <BARC.L> and former top executives over alleged wrongdoing in 2008.
But the charges against Barclays were thrown out by a court in May and the SFO failed to resurrect them in October.
Other cases have also made little public progress, such as bribery investigations related to drugs giant GlaxoSmithKline <GSK.L> and investigations into individuals associated with aero engine company Rolls-Royce <RR.L>.
(Additional reporting by James Davey; Editing by Adrian Croft)