U.S. judge says may order halt to integration of CVS-Aetna
Comments
By Reuters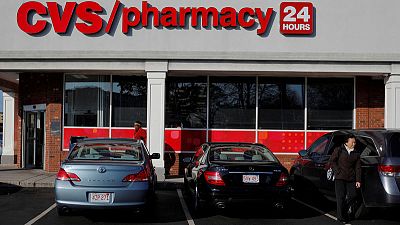 -
By Diane Bartz
WASHINGTON (Reuters) – A federal judge who has been asked to sign off on the government's decision to approve CVS Health Corp's <CVS.N> acquisition of insurer Aetna Inc indicated on Monday he may ask the companies to halt integration pending his decision.
Judge Richard Leon of the U.S. District Court for the District of Columbia complained at a hearing last week that the two sides had treated him as a "rubber stamp" for the deal. CVS closed the $69 billion transaction last week and began the integration process.
Leon said at a hearing on Monday that he would issue an order asking the two sides to argue why he should not require CVS and Aetna to be held separate until he decides whether he will approve the consent agreement reached in October between the companies and the U.S. Justice Department.
Makan Delrahim, the assistant attorney general for antitrust, declined comment after the hearing.
A CVS spokesman said in an email after the hearing: "CVS Health and Aetna are one company, and our focus is on transforming the consumer health experience."
Leon said during the brief hearing that he was "concerned" the Justice Department's filing with the court pointed to antitrust issues. In October, the Justice Department approved the merger of CVS, a pharmacy chain and benefits manager, and Aetna on condition that the health insurer sell its Medicare Part D drug plan business to WellCare Health Plans Inc <WCG.N>.
Most deals struck between the government and companies to resolve antitrust concerns are approved by federal courts with little fuss under the 1974 Tunney Act, which requires courts to ensure the agreement is in the public interest.
Companies generally do not wait for final court approval before closing their transactions.
(Reporting by Diane Bartz; Editing by Bill Berkrot and Jeffrey Benkoe)