China looks to boost agricultural exports to India - Xi
Comments
By Reuters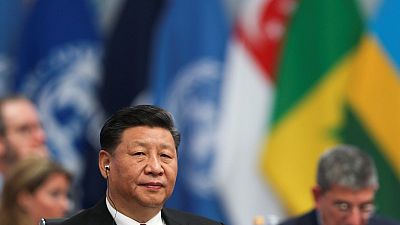 -
MUMBAI (Reuters) – China was looking to boost agricultural exports to India while increasing imports of rapeseed and soymeal, President Xi Jinping told Indian Prime Minister Narendra Modi on the sidelines of a G20 meeting on Friday.
Xi also indicated greater trade in the pharmaceuticals sector between China and India, foreign secretary Vijay Gokhale, who was travelling with Modi, said.
"On the economic side, President Xi Jinping referred to enhanced imports of rice and sugar from India and spoke of possibility of greater imports of soymeal and rapeseed," he said.
The meeting at the G20 meeting of industrialized nations was the fourth between Xi and Modi this year as the leaders looked to build on a thaw in ties between the two countries after a military standoff on their disputed border last year, officials told Reuters on Thursday.
China's official Xinhua news agency cited Xi as telling Modi that relations were improving.
The two countries should expand bilateral trade and strengthen investment, Xinhua cited Xi as saying, without giving details.
India's commerce ministry and a six-member Chinese delegation signed an agreement on Wednesday allowing Beijing to inspect imports of Indian fish meal and fish oil in an effort to ease market access for exports of various farm products.
China's Ministry of Commerce told Reuters in a faxed statement on Friday that China was happy about the "constantly improving" investment environment in India with hopes to push for the resumption of Chinese dairy, apples and pears exports.
India banned the import of Chinese apples in 2017 after finding pesticides, while China restricted imports of Indian buffalo meat because of concern over foot and mouth disease.
Their bilateral trade reached $89.6 billion in 2017/18 with a deficit of $62.9 billion in China's favour.
(Reporting by Nidhi Verma and Abhirup Roy; Additional reporting by Ben Blanchard and Yawen Chen in Beijing, editing by Louise Heavens and Grant McCool)