Exclusive: Trafigura, BP increase loans to Russia-backed Indian refiner to $3 billion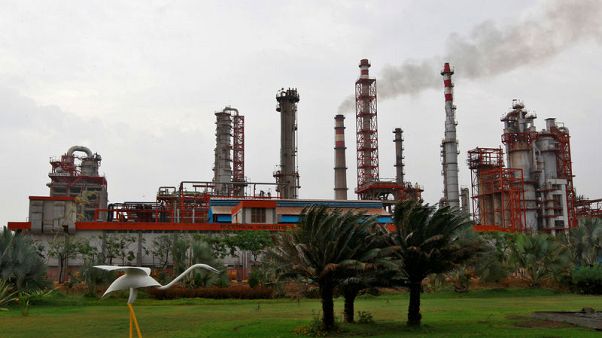 -
By Nidhi Verma and Julia Payne
NEWDELHI/LONDON (Reuters) – Russian-backed Indian refiner Nayara Energy is set to secure its biggest fuel-backed loan, a $1.5 billion advance from Trafigura, BP <BP.L> and some banks, according to industry and banking sources familiar with the matter.
It takes the total size of Nayara's pre-payment deals to nearly $3 billion (2.3 billion pounds) despite concerns over U.S. sanctions.
The company, previously owned by the debt-laden Essar Group, is gradually raising its profile on India's energy map. It is scouting to secure its future revenue streams by locking in export financing deals.
Trafigura and oil major BP are in the process of syndicating a $1.5 billion loan to be repaid with future gasoline and gasoil cargoes from the refinery over four years, the sources said. The syndication is expected to be completed before the end of the year, they said.
Nayara, formerly Essar Oil, was taken over by a consortium led by Russian oil major Rosneft in 2017. Rosneft owns 49.13 percent of Nayara, while Russian fund UCP and Swiss commodities trader Trafigura together own a similar share.
In last year's deal, the consortium acquired the 400,000 barrel-per-day refinery in Vadinar as well as a port, power plant and 3,500 fuel stations for nearly $13 billion.
Since then Nayara has expanded its retail fuel network to about 4,500 stations and has set a target of reaching 7,000 in three years, its chairman, B. Anand, said in September.
Nayara previously depended on close to 30 Indian banks for its financing, adding foreign exchange costs as it would have to buy crude in dollars using Indian rupees – an untenable and expensive proposition.
SANCTIONSFEARS
Pre-payment deals are a normal mechanism to raise funds but Western banks were initially hesitant to participate in Nayara's deals due to the Russian companies' stakes in it and the refiner's reliance on Iranian and Venezuelan oil.
Russia has been under U.S. and EU sanctions since 2014 when it occupied Ukraine's Crimea peninsula and Rosneft is under limited sanctions. Washington re-imposed sanctions on Iranian oil in early November and the Trump administration has weighed restrictions on Venezuelan oil.
Nayara's previous ownership under debt-ridden conglomerate Essar Group added to the qualms.
However, a banking source said that Nayara's intention to stop buying Iranian oil and a company name change improved the compliance outlook for the bank.
For the current $1.5 billion deal, BP, Trafigura and bankers involved will float a special purpose vehicle while for the previous such transactions that mandate was directly given to the buyers.
Trafigura declined to comment. BP did not immediately respond to a request for comment.
Asked for comment on the fuel-backed loan, Nayara said in a statement sent to Reuters that its improved financial performance and credit rating over the last year had attracted more interest in working with the company.
"This transformation of the company in the last one year has resulted in substantial interest from the top global and domestic banks who wish to partner with the company," Anup Vikal, Nayara's chief financial officer, said.
"As a part of this drive towards further efficiency and global interest we are constantly evaluating multiple opportunities including export advance as the company moves into the new era."
Deutsche Bank and ABN Amro are among the foreign banks involved, the sources said.
The banks did not immediately respond to a request for comment.
The new deal would bring Nayara's total pre-payment transactions during the year to nearly $3 billion.
Trafigura and BP have already completed two similar deals. Syndication of a $1 billion prepayment, first reported by Reuters early this year, was finalised in September for a lower amount of $750 million over 15 months, one of the sources said. Another $700 million over 8 months began in March.
(Reporting by Nidhi Verma in New Delhi and Julia Payne in London; Editing by Adrian Croft)
euronews provides breaking news articles from reuters as a service to its readers, but does not edit the articles it publishes. Articles appear on euronews.com for a limited time.