Turkish economy normalising after 'attacks' from abroad - Finance Minister/CNN Turk
Comments
By Reuters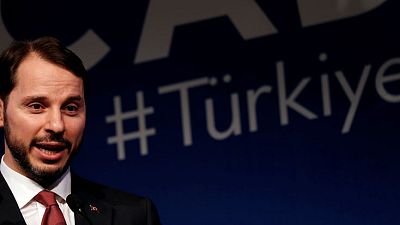 -
ISTANBUL (Reuters) – Turkey's economy began to normalise in October and markets are likely to be reassured about its prospects next year, Finance Minister Berat Albayrak was quoted as saying by broadcaster CNN Turk on Tuesday.
The lira slumped in August and at one stage was down 47 percent since the start of the year on investor concerns over the Turkish central bank's independence and a deterioration in U.S.-Turkish ties.
The currency has since recovered some of those steep losses with a mammoth 6.25 percentage point rate hike in September and an improvement in relations with the United States.
Albayrak, in remarks quoted by CNN Turk, blamed the lira's tumble on what he called "economic attacks planned in a foreign country", singling out in particular Aug. 10 when the currency's volatility peaked. He did not elaborate on this point.
He added, "There is no problem Turkey cannot overcome. The Turkish economy has started its normalisation process as of October (and) 2019 will be a year that will reassure markets…"
Some economists say Turkey faces economic trouble down the road. Inflation hit a 15-year-high last month while industrial output grew at its slowest pace in almost two years in August, recent data showed, reinforcing concerns about a sharp slowdown.
A month ago the government cut its growth forecast and raised its inflation outlook in a new three-year economic programme, which investors said was more realistic than previous estimates.
(Writing by Ezgi Erkoyun; Editing by Mark Heinrich)